Handsome Soccer Players
Football is always a centerfield of fashion and hotness due to its large number of audience all over the world. When footballers show off a bad dressing sense, it becomes an immediate hit for the paparazzi followed by the rest of football fanatics. After being superstars, as well as super players, footballers also enjoy the attention they get from the media. They have a huge number of followers in popular social media like Twitter, and photo shared by them can easily snatch out millions of Likes and appreciation within shortest possible time. Before the recent FIFA World Cup 2014, everyone was eagerly waiting for the upcoming style displays by the players. And when the world cup started with a variety of a display of dressing and hairstyles of the famous players, media also noticed millions of look-a-likes of Messi, Ronaldo, Van Persie, Balotelli, etc. all over the streets in every corner of the earth. It has always been a topic of curiosity and admiration when it comes to football fashion. So here is the list of 10 most handsome soccer players.
You May Also Like: Top 10 Best Looking Male Athletes
Top 10 Most Handsome Soccer Players
1. David Beckham
David Beckham won the league titles in England, Spain, United States and France, and became the first English footballer to do so. He was included in the FIFA 100 List of the World's Greatest Living Players in 2004. Beckham started dating Victoria Adams way back in 1997, and he proposed to her in a restaurant in Cheshunt on 24 January 1998. David and Victoria got married on 4 July 1999 at Luttrellstown Castle, then the posh Spice Girl became Victoria Beckham, and the duo started to be referred as "Posh and Becks" by the media. While launching perfumes in the U.S, Beckham, charged a stunning $13.7 million in 2007. "David Beckham" was the most searched name all over the world in any sports genre in 2003 and 2004, according to Google. MLS already announced In February 2014, it has been declared that Beckham will own an expensive Miami team.
You May Also Like: Best Haircuts in Football World Cups
2. Ricardo Kaká
Ricardo Izecson dos Santos Leite is widely known as Kaká, a nickname which was created due to his younger brother Digão's inability to pronounce "Ricardo" in their childhood. After winning FIFA World Player of the Year and Ballon d'Or in 2007, he joined Real Madrid for a transfer fee of €65 million. Kaká is the youngest ambassador of the UN World Food Program appointed in 2004. He was included in the list of 100 world's most influential people by Time in 2008 and 2009. After winning FIFA 2005 Confederations Cup final against Argentina, he and his teammates wore t-shirts having "Jesus Loves You" caption in different languages. He was featured in numerous Adidas ads and also became a brand ambassador and model for famous fashion house Armani. A photo collection of Kaká with his Milan teammates was also published by Dolce & Gabbana in 2007.
You May Also Like: Good Looking Hairstyles of Athletes
3. Cristiano Ronaldo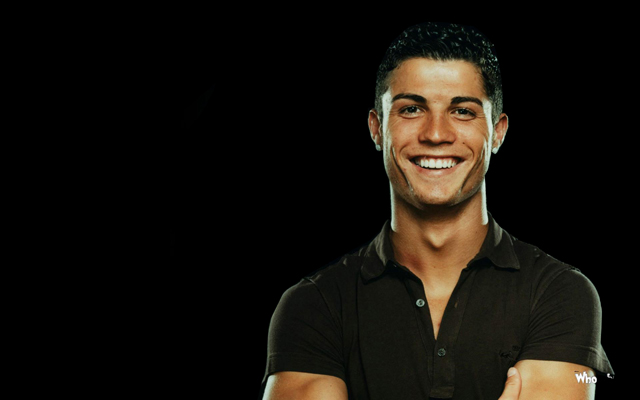 Cristiano Ronaldo became the most expensive player in the world while moving to Real Madrid from Manchester with $132 million transfer fee and $30 million yearly salary excluding taxes. He won four major trophies in a single year which includes FIFA World Player of the Year, World Soccer Player of the Year, FIFPro Player of the Year and the Onze d'Or in 2008. He also has the record for most goals scored in a single UEFA Champion with 17 goals in the 2013–14 season. He participated in three FIFA World Cups starting from 2006 to 2014. He previously dated English models Alice Goodwin and Gemma Atkinson, and from 2010, Russian model Irina Shayk became his girlfriend. Cristiano Ronaldo became the Global Artist Ambassador for Save the Children on January 2013. He also owns a fashion house under the name "CR7" from 2006.
You May Also Like: Top 10 Athletes with Star Parents
4. Robin van Persie
Striker of Manchester United, Robin van Persie is often compared with Dutch legend Marco van Basten. Van Persie finished as the top scorer with 26 goals and led Manchester United for Premier League title in 2012. He achieved the Dutch Football Talent of the Year award in 2001. Van Persie was originally a left winger, but pushed to a more attacking position in later days. He received the Premier League Player of the Month on five occasions, and also he holds the 11th position in the list of 100 best players in the world by The Guardian in 2013. Van Persie is the top scorer of all time from Netherlands with 47 goals. He belongs to an artistic family of Rotterdam as his mother José is a painter, and his father Bob is a sculptor. Van Persie is married to Bouchra Elbali and together they have two children, Shaqueel and Dina.
You May Also Like: beautiful Girlfriends of Footballers
5. Iker Casillas
Spanish goalkeeper Iker Casillas won the IFFHS World's Best Goalkeeper Award for five consecutive years starting from 2008 to 2012, for his team Real Madrid. He held the 4th position in 2008 European Footballer of the Year award and was voted into the UEFA Team of the Year for six consecutive times from 2007 to 2012. He holds the record of the most number of match appearances as a goalkeeper in the UEFA Champions League from October 2010. According to Don Balon media poll, he is the Sexiest Spanish Footballer. Casillas signed a sponsorship deal with Reebok in 2004 and became the brand face of I Am What I Am global advertising campaign by Reebok in 2005. He also became the brand ambassador of Adidas in 2012 for their goalkeeping gloves "Response" and football spikes "Predator." Casillas was appointed as a Goodwill Ambassador of Millennium Development Goals campaign by UN in 2011.
You May Also Like: Amazing TV commercial by Athletes
6. Gerard Pique
Barcelona centre-back Gerard Pique is a member of 2010 FIFA World Cup and UEFA Euro 2012 winning Spanish national team. He moved to Manchester United from Barcelona's Youth Academy in 2004 and returned to Barcelona again in 2008 under Pep Guardiola. He debuted in Spanish National Football Team on 11 February 2009. Piqué is one of the four players to win UEFA Champions League in two consecutive years with two different teams. He met Colombian singer Shakira during the music video shoot of the official song of 2010 FIFA World Cup, "Waka Waka," and since spring 2010, they are in a relationship. Remembering pique, Shakira said, "He's very territorial, and since he no longer lets me do videos with men, well, I have to do them with women" to E! Online. Pique was the brand ambassador of Mango men's line HE for autumn-winter 2012 and 13 campaign.
You May Also Like: 10 Unknown facts about Neymar
7. Yoann Gourcuff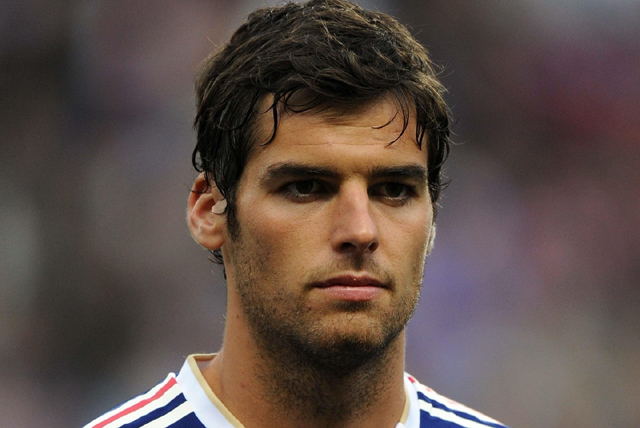 French footballer Yoann Gourcuff currently plays for Lyon as an attacking midfielder in Ligue 1. In his childhood, he also excelled in Tennis and is listed among the top players of his age group in France. Prior to his senior level career, he was also a vital member of 2005 European Under-19 Football Championship winning French junior team. He joined Olympique Lyonnais in August 2010, on a five-year contract. He is the Best French Player of His Generation according to former French international David Ginola. Gourcuff won UNFP Ligue 1 Player of the Year award and also became the French Player of the Year in 2009. He made his international debut in major championships at the 2010 FIFA World Cup, but sadly, he was not included in the 2014 World Cup France's squad.
You May Also Like: 10 Unknown Facts about Lionel Messi  
8. Paolo Maldini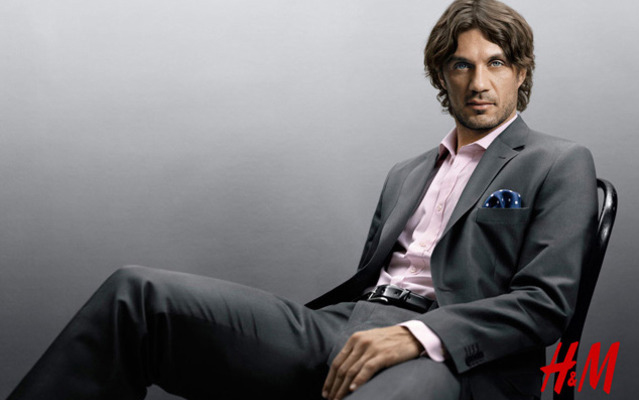 Former Italian footballer Paolo Maldini spent all 25 football seasons of his career at A.C. Milan. He won a total of 26 trophies for A.C. Milan including five Champions League, seven Serie A, five Supercoppe Italiane, two Intercontinental Cups, Coppa Italia, and FIFA Club World Cup. He was the captain of Italian National Football team for eight years. Under his captaincy, Italy reached the 1994 World Cup and Euro 2000 finals, along with 1990 World Cup and 1988 Euro semi-finals. During FIFA's 100th anniversary celebration in 2004, he was listed in Top 125 greatest living footballers. He was included in Greatest All-Time XI by World Soccer in 2013, and also became a member the "Team of the Decade" by The Sun in 2009. Maldini is married to former Venezuelan model Adriana Fossa and together they have two sons, Christian and Daniel, who are already playing for A.C. Milan's Youth Team.
You May Also Like: Top 10 Home Grounds of Soccer Clubs
9. Marco Borriello
Italian footballer Marco Borriello grew up in an area called San Giovanni a Teduccio in Naples and was raised by his mother Margherita along with his siblings after his father was killed by the Italian Mafia gang Camorra. In his younger days, he was transferred from Milan to Treviso on loan and returned to A.C. Milan in June 2002. He made his debut in major club league championship against Perugia in Serie A for A.C. Milan on 21 September 2002. Marco was re-introduced to A.C. Milan first team in 2006 after the A.C. Milan released two-star strikers Andriy Shevchenko and Marcio Amoroso. He was suspended after positive result in a drug test for prednisolone and prednisone for three months in 2007. Borriello later admitted, he used those drugs to treat a STD induced to him by his girlfriend.
You May Also Like: 10 Bizarre Hairstyles in Football
10. Cesc Fabregas
Spanish central midfielder Cesc Fabregas plays for Chelsea in the Premier League. He was transferred to Arsenal from Barcelona's youth academy at the age of 16 in September 2003. He returned to Barcelona for £35 million transfer fee along with £5 million variables on 15 August 2011. He signed for €33 million transfer fee with Chelsea in June 2014. He was also a member of Spain youth team at the 2003 FIFA U-17 World Championship in Finland. He is widely admired for his assistance to Andrés Iniesta for the winning goal in the 2010 FIFA World Cup Final. Fabregas signed a sponsorship deal with Puma in 2011. He is the brand face of the PowerCat range of football boots by Puma and also appeared in an international ad for the Puma Power-Cat 1. His own television program "The Cesc Fàbregas Show: Nike Live" was aired on 19 May 2008. Fabregas is also an honorary ambassador of Show Racism the Red Card for an anti-racism campaign.
Football is used to being a team game with good coordination among all the fellow teammates. But recently, rivalry among footballers regarding their fashion sense has become a common thing. Arsenal player Theo Walcott prominently portrayed his hatred towards Van Persie for his drastic fashion sense in his own autobiography. He stated "Growing up Fast the winger was far from complementary of RvP's clothing." Theo named it 'appalling clobber' and also adds that, RVP was "Embarrassing."