10 Bizarre Hairstyles in Football
Sports have given the opportunity to young and talented people to show their talent to the world and entertain people. The players get a platform to earn huge fame and money. Another chance that sports give to the athletes is to be ostentatious. Football being one of the most popular games in the world, the footballers always enjoy a lot of attention from the media, as well as football fanatics. The players try to portray themselves in a particular way, and what better way is there to show off an attitude and persona than with the style? On the field, the only way footballers can go crazy is by sporting innovative hairstyles. In the history of football, the players, especially the popular ones, have always added a surprise element to the game by donning such new styles. Here is a list of 10 bizarre hairstyles in football. Now, whether these were surprising or shocking is up to you to decide.
You may Also Like: Good Looking Hairstyles of Athletes
10 Bizarre Hairstyles in Football
Bacary Sagna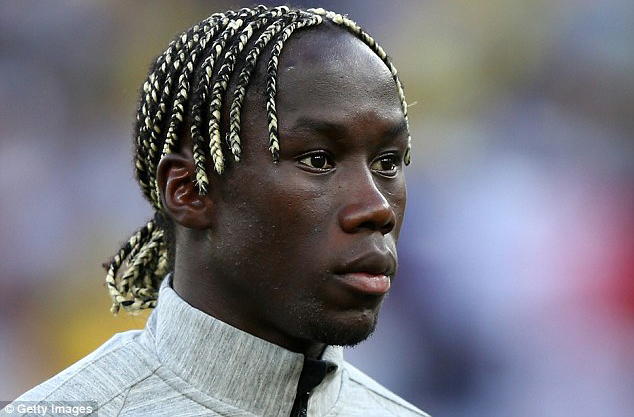 The French national team footballer is the right back for English club Manchester City, and has received accolades for his skill. But, his wacky hairstyle got him more attention. It is hard to ignore the mini thin braided locks that start from the central parting of his otherwise bald skull. These locks are mostly bleached to a very pale blond. But, the braids are often bicoloured. He won a bet with his father regarding whether or not he would be able to score a goal in an upcoming match. In fact, he scored two goals, and thus, thus born the trademark hairstyle with yellow and black braids. Unfortunately, he has too sweet an attitude to pull it off.
You may Also Like: Best Haircuts in Football World Cups
Taribo West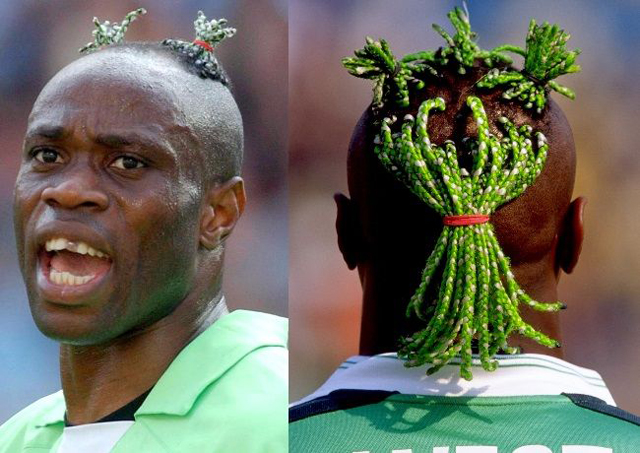 People of colour can particularly rock braids. But, Taribo went ahead by far too many steps. The former Nigerian defender's unusual, colourful hairstyle is a part of his identity. His hairstyle and color kept changing in every new season, but, the wackiest hairstyle award goes to his green rope braids. What's more, these locks were of varied lengths at different parts of the head, so that he could tie the longer ones at the back into a ponytail, and the shorter ones in the front used to be tied up in two little tousled buns. There are various tinges of green in each braid. He has also gone multi-coloured with his braids, quite a number of times.
You may Also Like: 10 Most Handsome Soccer Players
Gervinho
The forward for Roma, Gervinho, is a part of the Ivory Coast national team. He has made a total of 57 appearances for his national team, and all this while he has been consistent with his hairstyle. Black braids of varied lengths start from the middle parting on his head and fall all over his head. Gervinho uses a head-band that runs across his forehead horizontally, to hold them in place. A large, triangular chunk of forehead and head peeps out from between the locks and above the thin band. He has been donning this since the start of his career. The only thing that he changes about his hairstyle is the thickness of the headband. Thankfully, the thick ones often cover the forehead.
.
You may Also Like: Top 10 Athletes with Star Parents
.
Djibril Cissé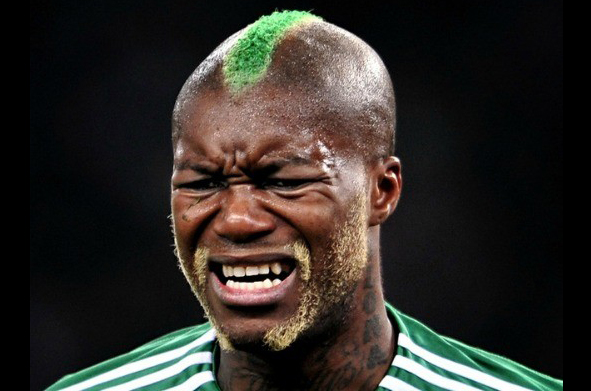 Cissé plays as the striker for SC Bastia, and is also part of the national football team of France. He is well-known for three things: his speed, acceleration and hairstyle. His style includes his bleached hair on the head, which is complementary to the blond mustache and beard, which, by the way, are also pretty quirky, as the stache is shaved right above the upper lip, and the beard is shaved at the chin. For the 2010 Football World Cup, he captured the attention of the spectators as he sported a flat and wide Mohawk, just like Mario Balotelli, and went ahead a step by coloring the strip of hair a vivid green with a slight yellowish border. The rest of the head is clean-shaved.
You may Also Like: beautiful Girlfriends of Footballers
Kyle Beckerman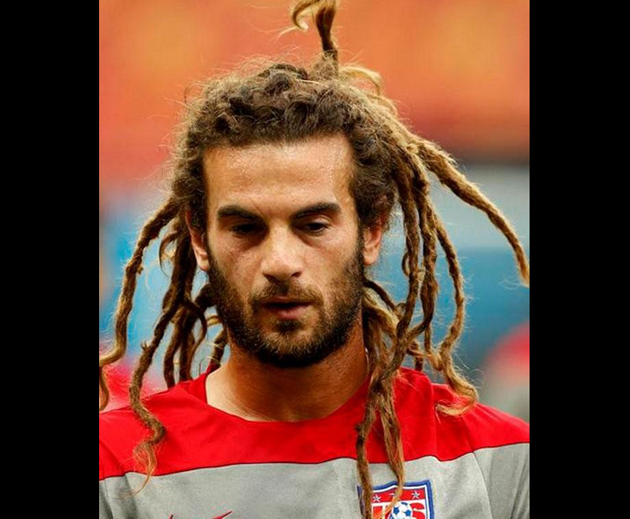 An American footballer of the national team, Kyle plays for the Real Salt Lake team as its captain and holding midfielder in Major League Soccer. While is game won his appreciation, his hair made it to the criticism column. In 2014 World Cup, he was seen sporting dreadlocks. His head is a mess made of blondish brown thick strands of uncombed hair, into which he has reportedly put in a lot of effort for an early age. These dreadlocks fly, as Kyle runs in the field. While most footballers are shaving off a part or the entirety of hair, Kyle maintains a different style, as the dreadlock, which look like they need wash, are pretty long. He often secures them with a band, forming a gigantic bun.
You may Also Like: Hottest Female Sports Newscasters
Manuel Cange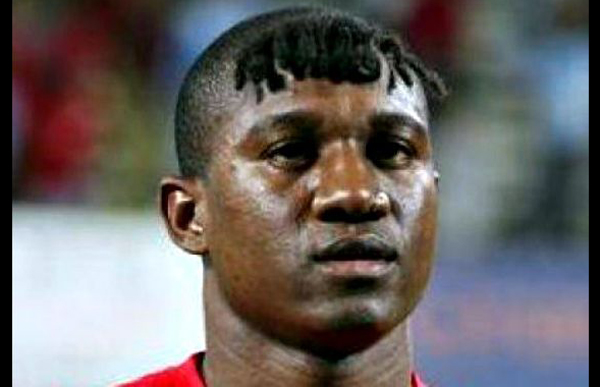 Manuel Cange, who is commonly known as Loco, is the right back for Petro Atlético in Girabola. His miraculously madcap hairstyles have been a centre of attention. Earlier, he sported a style with ultra-short hairs all over his head, which he got colored to form patterns on his head. His latest style, however, is different from what anyone has even seen. His entire head is covered with hair that gives a next-to-bald look. But, that is not the quirky part. On the forehead lie loosely little black braids. Now, we are not entirely sure how he got this idea. All we can guess is that he is probably trying to hide a rapidly receding hairline. But, the locks look like worms growing out of his head.
You may Also Like: Top 10 Hottest Female Tennis Players
Abel Xavier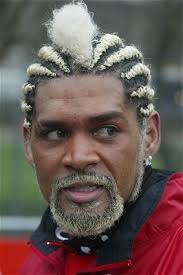 The former Portuguese footballer who played as a full back is now the manager of the Portuguese club named Olhanense. Abel has always sported bleached hair, which he used to get trimmed to show off some crazy styles. His hair is also remembered for the vividly blond shade which match perfectly with the mustache and beard. He has probably toyed with every hairstyle in the book, and his most memorable style is the one with blond – rather, almost white – thick strips of cornrowed hair all over the head, with black, extremely short hairs grazing the skull. That's not all, since the strand in the middle is taller and messier, thus looking like the headgears that ancient warriors wore.
.
You may Also Like: Top 10 Best Looking Female Athletes
.
Bas Savage
Basir Savage, or Bas, is an English footballer, known for his celebrations on the ground by performing moonwalks. It is obvious that he is a vivacious person, and his uniqueness shows in his outrageous hairstyles. A memorable hairdo of his was the Spider man style, for which he sported design that resembled a spiders' net. While the net design is visible from the back, his head was covered in very short hair that was dyed red. He was greatly inspired by Spider man, and so he chose the color as it is the primary color on the superhero's costume. He also dyed his hair red and blue, with the hairline bordered with golden blond cornrow.
.
You may Also Like: Top 10 Best Looking Male Athletes
Paul Scharner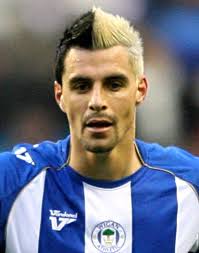 The former Austrian defender could play almost all midfield positions with equal dexterity. Besides his footballing skill and flexibility, Paul has also been the center of attention for his ever-changing hairstyles, which went from the gelled look as the strands lay flat on his head, to the faux Mohawks of different colors. Paul made his Mohawks different: his hair is often multi-coloured, in combinations like red-blue blue-black-white, etc. At one point of time, half of his head was black and the side, whitish blond, which he applied on a faux Mohawk. The ebony-ivory hair definitely made him look like the male counterpart of Cruella, the villain from 101 Dalmatians.
.
You may Also Like: Amazing TV commercial by Athletes
.
Brek Shea
There is something that goes terribly wrong when a white-skinned blond tries to do braided cornrows, and the same disaster happened with the winger for Birmingham City who also plays in the American national team. Shea has gone from mullet to dying his hair red to match colors with that of FC Dallas club, but, his zaniest look was that of the golden cornrows that covered his entire head and created tiny little strands at the back of his head. What's more, he has even added beads to the end of these golden strands. When David Beckham couldn't pull off the braided hairstyle look, Shea should have picked up the clue.
There are many other flamboyant footballers, and even those like Beckham or Cristiano Ronaldo often end up creating a disaster on their head. Sometimes, one look may appeal to some people, while the other criticize it. For instance, Chris Waddle's mullet is considered one of the best hairstyles in football history, while many like to think that it made him look like he was posing for a mug-shot. However, experiments with hairstyles never stop. During one game in 2011, the starting lineup of Bromley had OP codes shaved onto the heads. So, there will always be players with bizarre hairstyles in football. We just have to wait to be surprised or shocked by these.