Top 10 Foreign Players in NBA History
New generation fans will remember Dirk Nowitzki as the best foreign player that has played in the NBA. And they have every right to do that, because Dirk Nowitzki is officially one of the most prolific international players in the NBA history in regard of total points scored.
Plenty of great foreign talents have passed through the NBA, either as team leaders or just 6th men struggling to get their way into the American style of playing basketball. You won't find many of them when you visit the Hall of Fame, except for Olajuwon, Sabonis and a couple of other. Certainly, these in this list deserve more than just being mentioned in a list of top 10 foreign NBA players.
An honorable mention should be given to Drazen Petrovic, who tragically lost his life in a car accident, which made his NBA career and life short. If not for the crash, he certainly would he made it to this list. Sabonis too who despite entering the NBA at the age of 31 he still managed to average 12 points, 7.3 rebounds and 1.1 blocks per game. Only 15 other players have managed to do that at such an old age for a player.
Top 10 Foreign Players in NBA History
10. Peja Stojakovic
Although born in Croatia, Peja Stojakovic played for the Serbian national team. He spent 13 years in the NBA and averaged 17.0 points, 4.7 rebounds and 1.8 assists. His three-point shooting success was 40.1 percent and had an overall 45 percent shooting success. He was definitely a player ahead of his time in terms of scoring and shooting. He scored as if the greatest shooter ever, especially during his championship run with the Mavericks.
He is one of 8 players to succeed in achieving above 37.5 three-point percentage 11 seasons in a row. Plus, he will be remembered as one of the Kings from Sacramento's best playoff days, the poster boy of "The Greatest Show on Court".
9. Detlef Schrempf
German's best and most reliable NBA rotation player that spent 16 years in the NBA. He had 49.1 percent shooting and averaged 13.9 points, 6.2 rebounds, 3.4 assists. He passed and rebounded, and scored whenever he needed to. He won two Sixth Man of the Year awards, and was a very efficient player. The best thing about his historical impact was that he managed to leave an imprint with less than 30 minutes per night. He is one of only four players to end his career with averaging the numbers above in less than 30 minutes per night. Plus, he was three-time All Star, and one of just 15 players to score more than 3,500 assists, 7,000 rebounds and 15,500 points. Nine of them are in Hall of Fame.
8. Yao Ming
If Yao Ming didn't have to retire due to his injuries just 8 years into the NBA, he certainly would have made it the Hall of Fame. He was a bridge between American and Chinese fans and a great personality. China made an official bid for his acceptance into the Hall of Fame, but the great Yao Ming refused it himself, saying that it's too early for that. He had incredible numbers despite not being able to play throughout the entire season. His career should have been one of the best in the NBA if it wasn't tainted by injuries. He still made 900 blocks, 4,400 rebounds and eclipsed 9,200 points in the 8 seasons. He is a unique basketball specimen.
7. Dikembe Mutombo
Shot-swatting was his specialty. He made it cool before it was cool. Over the course of 18 years he blocked 3,289 shots among which shots of great players like Michael Jordan. He is a rare foreign player that had such a longevity and only one of five players that registered more than 2,500 blocks, 12,000 rebounds and 10,000 points. This got him in the company of Abdul-Jabbar, Duncan, Olajuwon and O'Neal. He was a real stat hoarder.
6. Pau Gasol
Pau Gasol is so likeable that he even befriended Kobe Bryant who players claim to be tough to like. But, the most important change that Pau Gasol brought in the NBA was the way we look at tall players. He wasn't nor a center nor a forward. He was something in between with such a great court vision and offensive range that even point guards can envy.
He is one of four players to maintain an average of at least 18 points, 1.5 blocks, 3 assists and 9 rebounds, and there still some juice left in him to maintain that record for the remaining of his career with the Bulls. Moreover, he shoots 50 percent or better. The other players with such numbers are Abdul-Jabbar, Duncan and Lanier. Plus, he has surpassed 1,500 blocks, 3,000 assists, 8,500 rebounds and 17,000 points, an accomplishment that only Parish, Ewing, Hayes, Moses Malone and David Robinson have made. He is all-time great and innovative, and bound to make the Hall of Fame!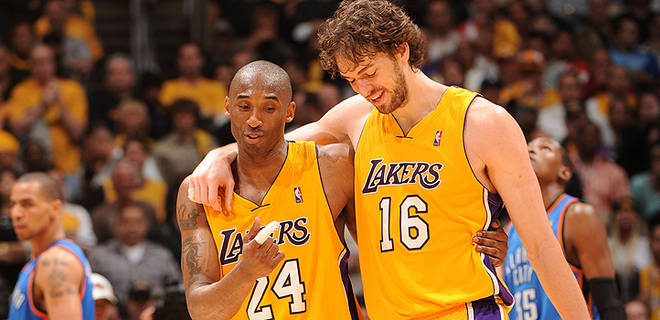 5. Manu Ginobili
Ginobili's career is consisted of 70% regular-season appearances coming from the bench, which is why he managed to clock more than 30 minutes per night just once in his 12-year career. Fifty-five players have topped 1,000 steals, 3,000 assists, 3,000 rebounds and 11,000 points in their career, and Ginobili is the one with the lowest minute average. How can you not include such a player in this list? Plus, he was an important part of the Spurs dynasty. He is a two-time All-Star, former Sixth Man of the Year and once he becomes eligible for the Hall of Fame, he will be immediately inducted.
4. Tony Parker
Born in Belgium, but played for France his entire career. He is a player that embraced the spotlight at San Antonio more than any other player that time, which made him the best headliner that the Spurs ever had. Parker is a six-time All-Star that loved playing in San Antonio. Not once he sought to play anywhere else, which solidified his place among the best Spurs and NBA players.
He is one of seven players to bang 49 percent of their shots while clocking 6 assists and 17 points, and his minute average is much lower than theirs. The other are Bird, LeBron James, Wade, Kevin Johnson, Magic Johnson and Walt Frazier. If he stays healthy enough for the remainder of his career, he has a chance to score more than 20,000 points and 7,500 assists, a touchstone reached by Robertson and Gary Payton only.
3. Steve Nash
The South African (with Canadian nationality) that spent 18 years in the NBA made such an impact that it is incredible. His reputation could have been ruined by late-career injuries, and his lack of defense made him somewhat lesser than other greats of his rank, plus he hasn't won a title.
But, none of that damages the legacy he left. His all-time assists score is way higher than Stockton's and Kidd's and is fourth in field-goal percentages behind Barkley, O'Neal and Abdul-Jabbar. He is as efficient as a center, but played at guard. He was a magician in offense, and developed his own brand game. He is the only of his breed and guards like that are tough to find today. His career end wasn't ideal, but that can't smear the maestro's legacy.
2. Dirk Nowitzki
At 37 years of age, Dirk Nowitzki currently has scored more than 28,800 points, 10,300 rebounds, 3,300 assists, and 1,100 blocks. If he manages to score 30,000 points he will be the sixth player to do that after Abdul-Jabbar, Chamberlain, Bryant, Malone and Jordan. Plus, he is the first to reach more than 25,000 points while making more than 175 three pointers and 9,000 rebounds.
He is so great that even at old age that the fans beg for him to be included in the All-Star team this season. So far he has had 12 All-Star appearances, and only one Championship. But, all of that isn't that much important. The amazing thing about him are his sacrifices, his loyalty and longevity. He had a really amazing ride coming from a little dump in Wurzburg, Germany to becoming one of the greatest NBA players.
1. Hakeem Olajuwon
By the time you reached the number 2 on this list, you probably realized who will be first place. That's right, the Nigerian tower, The Dream, The Grace. If Nowitzki manages to last for a bit more, Olajuwon's 30,000 points will be seriously at danger. But, even then, Olajuwon will remain as a legend and his throne safe. To call him an all-time great is an insult. He is the king.
One of the most versatile players, a 7-footer who could force steals, create scoring opportunities, move with grace, protect the rim, put the ball on the floor, post up and shoot. Not even Abdul-Jabbar has managed to score 3,000 blocks, 2,000 steals, 3,000 assists, 10,000 rebounds and 30,000 points. Although many centers have tried to copy his playing style, there will be only one Olajuwon.