Fact about LeBron James
The most popular basketball player of recent days is undoubtedly LeBron James according to basketball fanatics. After being drafted as the 1st overall pick of the first round by Cleveland Cavaliers in 2003 NBA draft, he continued to play for Cavaliers till 2010. He then transferred to Miami Heat and played for them till this year and recently moved back in his old team, Cleveland Cavaliers. He led Miami Heat to victory of the NBA championship twice consecutively and was also selected as the NBA finals Most Valuable player on those two occasions. He became the NBA MVP regular season four times and made it to All-Star a breathtaking ten times out of which he was named NBA All-Star Game MVP twice. He was selected in All-NBA First Team eight times and made it to NBA All-Defensive First Team five times till now. LeBron is also a three times Ohio Mr. Basketball. The numbers of fans are endless for LeBron as the facts about him are also endless. So here is the list of 10 Amazing Fact about LeBron James.
You may Also Like: Unknown Facts About Michael Jordon
10 Amazing Fact about LeBron James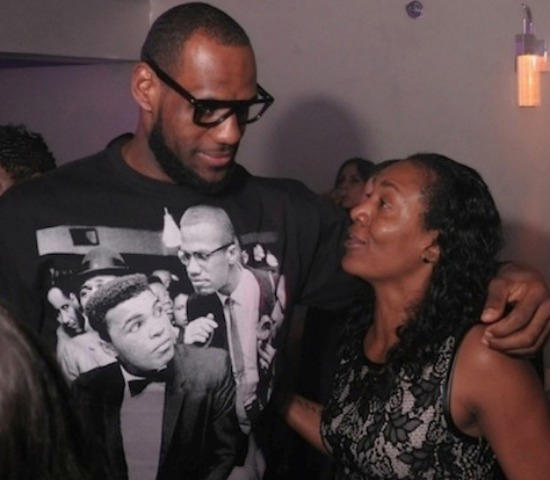 His mother spent a week in jail
#1 Fact about LeBron James
James was born on December 30, 1984, in Akron, Ohio, when his mother Gloria Marie James was just 16 years old. Gloria single-handedly raised LeBron and she herself faced a lot of trouble while doing so. While remembering his mother, he stated, "I had my mother to blanket me, to give me security. Growing up, she was my mother, my father, everything." After his mother Gloria had been taken into custody for committing crimes like trespassing and unauthenticated conduct when he was in his school, he was too ashamed to go to school in fourth grade. Although his mother spent only seven days with cops, but, for the shame that haunts LeBron, he missed around 100 days of school. He once stated, "Whatever my mom could do or could not do, I also knew that nobody was more important in her life than I was."
You May Also Like: Most Popular Sports in the World
His similarity with Michael Jordan
#2 Fact about LeBron James
There are lots of similarities between the two of the biggest superstars in the basketball industry, Michael Jordan and LeBron James. Jordan was just 29 years old when he was in his top form in 1992. Jordan became regular season NBA Most Valuable Player and also the NBA final MVP in 1992, whereas he was the team member of US national team for the Olympics on the same year where they won the gold medal. LeBron did the exact same thing when he was just 27 years old. He became the NBA finals MVP and regular season MVP and also established himself as a key member of the US National team which won the 2012 London Olympic Games. Both of Jordan and LeBron also won two gold medals in Olympic Games, Jordan in 1984 and 1992, and LeBron in 2008 and 2012.
You May Also Like:10 Unknown facts about Neymar
His first shoe was inspired by the Hummer H2
#3 Fact about LeBron James
It created a lot of controversies when a two-week investigation was conducted to determine the law violation by LeBron, when he caught driving a H2 which has a base retail price of $50,000. But his mother Gloria gave subsequent proof that she herself bought the car for LeBron in his 18th birthday. It created an even greater controversy and also a certain admiration toward his mother, when irrespective of the socio-economic problems she was facing that time, she never hesitated to plan a perfect gift for young LeBron. Gloria took a loan from a bank to fulfill her son's dream to ride his favorite car the Hummer H2. To honor the memory, LeBron designed his first pair of NIKE shoes while having the Hummer H2 in mind. According to him, the shoe was a memory token for the effort of his mother while buying the car.
You May Also Like: 10 Unknown Facts about Lionel Messi  
His shares in Liverpool FC
#4 Fact about LeBron James
The second-most celebrated English football club after Manchester United, Liverpool FC, is co-owned by the basketball megastar LeBron. He invested in the football club in April 2011 as a part of the marketing policy with Henry's Fenway Sports Group. After £25 million per season for the next six years deal with Warrior Sports and Liverpool FC for the kit, the club attended the financial supremacy when various other investors, along with LeBron James himself, supported the club. While talking about the success of his team, the Liverpool FC, he stated, "18 championships, I see myself trying to do the same things they have." James also released the Liverpool Edition of the Nike Lebron 9 Low sneaker to honor his attachment with the team.
You May Also Like: 25 Interesting Facts About Tendulkar
His German chocolate cakes
#5 Fact about LeBron James
LeBron and his mother Gloria moved from apartment to apartment in the neighborhoods of Akron while Gloria was struggling hard to get a steady job which will financially assist her family and also to raise LeBron. But after several failed attempts, his mother decided that LeBron needed to be in a more stable family environment. A local football coach called Frank Walker, who also introduced LeBron to basketball when he was just nine years old, came to stand by the side of the family of LeBron. His mother allowed LeBron to stay with Walker family. Frank Walker's wife, Pam, started to bake German chocolate cakes as a gift for his birthdays when LeBron was living with them. LeBron still has the tradition of getting German chocolate cake for his birthday.
You May Also Like: Golf Hall of Fame 2015 – Top 10
His jersey number
#6 Fact about LeBron James
Before he finally took his famous jersey no.6 for the Miami Heats, LeBron tried various jersey numbers. During his early childhood days when he was a toddler, LeBron had a great admiration towards basketball legend Julius Erving aka Dr. J, who played for Philadelphia 76ers at that time. Even though LeBron was just 4 years old when Dr. J retired from professional basketball, he never hesitated to show his respect towards the legend. LeBron wore jersey No. 32 in high school because his second-favorite player after Jordan, Dr. J, wore it first. LeBron also wore Jordan's No. 23 jersey to honor the legend but later gave it up while stating the jersey No. 23 should be retired from the entire NBA to honour the greatest legend of basketball.
You May Also Like: Cricket Hall Of Fame 2015 – Top 10
Left Hand Right Hand
#7 Fact about LeBron James
LeBron is famously known as a right-handed shooter, and with right hand, he has made an enormous amount of amazing shots which dropped right into the basket. But as an interesting fact, he is not at all a right-hander. He is a left hander by birth and writes and eats with his left hand since his childhood. When his first coach Frank Walker had taken him under his training, Frank taught him how to dribble and pass, and how to shoot left-handed layups. During his training in junior school and high school, he started adopting right-hand shooting and from that time, he established himself as one of the very best right-hand shooters of basketball history.
You May Also Like:  Tennis Hall of Fame 2015 – Top 10
His Secret Handshake with Jay-Z
#8 Fact about LeBron James
Every basketball fan knows about the friendship of two legendary stars from two different fields, between LeBron and Jay-Z. When Washington Wizards player DeShawn Stevenson called LeBron James "overrated" during the Wizard-Cavs series in 2008, Jay-Z recorded a freestyle rap called DeShawn Stevenson diss track to defend his dearest friend LeBron. Jay-Z also made the freestyle called "Blow the Whistle" famous in the 2008 playoffs as a friendship gift and later, the two of them were seen together at various events. There are enough clues to identify the relationship of Jay-Z and Illuminati, but Jay-Z and LeBron did something hilarious in 2012. After a Heat vs. Nets game in 2012, Jay-Z and LeBron met on the sidelines of the court and exchanged a pretty intricate handshake which resembles the Illuminati sign.
You May Also Like:Soccer Hall of Fame 2015 – Top 10 
The King-Kong pose
#9 Fact about LeBron James
LeBron was on the covers of various magazines since his childhood which also includes his first cover of Sports Illustrated called "The Chosen One" on the February 18, 2002 issue. But he created best sensation when he appeared on the cover of Vogue in March 2008 issue. LeBron became the first Afro-American man to appear in the cover of Vogue and also the third "Man" overall after Richard Gere and George Clooney. He posed with Brazilian fashion model Gisele Bündchen as a classic imagery of the movie monster King Kong. The cover created huge controversy for racism when many of the sports columnists and bloggers found that very offensive because the cover portrays racism while capturing a light-skinned love interest of black "monsters."
You May Also Like: Top 10 Most Difficult Sports to Play
The truth behind No.6
#10 Fact about LeBron James
After he tried jersey No. 32 as a tribute to Dr. J and jersey No.23 as a tribute to Michael Jordan, he finally decided to wear jersey No.6 for rest of his life. LeBron married his high school sweetheart Savannah Brinson on September 14, 2013, in San Diego and they have two children together. LeBron, while talking about his jersey number, stated that his first child LeBron James, Jr. was born on 6th of October and his second child Bryce Maximus James was born in June which is also the 6th month of the year. As a tribute to his children, he wore the same jersey number which resembles his toddlers' births. Later, he also added that no. 6 was his Olympic number for which he has a strong fascination towards no.6.
LeBron always created a sensation with his amazing activities since his childhood and junior school days. As an interesting fact, he participated in the Adidas ABCD Camp as a high school senior wearing Nike sneakers and attended the Nike All-American Camp while wearing Adidas sneakers.