Most Beautiful Athletes 2017, 2018
The world of sports is full of extremely skilled athletes, and they enjoy the same status as the celebrities of other fields of entertainment do. It does not come easy, of course, since, in order to enjoy such a position, a sportsperson must not only be skilled at his sport but must come with certain other qualities that boost her gameplay, such as athleticism, speed, fitness and focus. A talented athlete who comes as the entire package becomes popular. Such players earn a huge deal of money in the form of the salary from teams they represent, as well as the sponsorship deals that the bag. On top of that, if an athlete comes with good looks, the top brands try to make that person their face, and pay huge amounts for that. Like in case of most of the other forms of entertainment, in sports, too, women are always placed upon a high pedestal if their talent is complemented with beauty. There are some extremely beautiful female athletes, and because of their regular physical training regime, they remain is shape, too. Altogether, they bring to the plate a complete package. Let us take a look at the Top 10 Most Beautiful Athletes 2017, 2018.
Top 10 Most Beautiful Athletes 2017, 2018
1. Sydney Leroux
Sydney Rae Leroux is a 24 year old Canadian born athlete who represents America as a professional soccer player. She clinched the gold medal in the 2012 Olympics. She plays as the forward in Seattle Reign FC in the National Women's Soccer League. She began by representing Canada in youth levels of soccer, and moved on to the US U-20 team in 2008, and eventually to the senior team in 2012, after which she has been capped over 50 times. She is also celebrated for her beauty. She appears in many of the Nike advertisements, and is the first female athlete endorsing the sports drink company called BODYARMOR. She also has a number of other endorsement deals, the latest ones being with Nestle Nesquik. She was also featured on the cover of ESPN's The Body Issue of 2013. She has been seen in a number of television shows, as well, one of them being ESPN's Living Her Dream.
2. Maria Kirilenko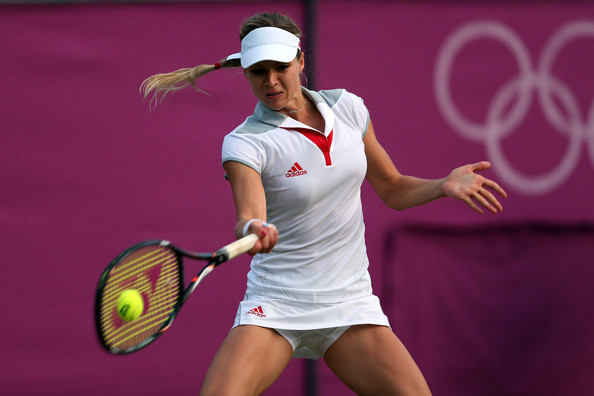 Maria Yuryevna Kirilenko is a 27 year old tennis player who represents Russia. She became the winner of the 2002 US Open Girl's Singles, and she also succeeded in grabbing 3 WTA Tour titles. She has made her way to the quarterfinals of three Grand Slam singles in the Australian Open Wimbledon Championship and French Open. She has made it to two finals in doubles in the French Open and the Australian Open. She became the winner of the 2012 WTA Tour Championships. She also bagged the gold medal in the 2012 London Olympic Games. In 2013, she climbed to her career high ranking of World No. 10. Apart from being a tennis player, she is also a model, and a rather beautiful one at that. She became the face of Adidas back in 2006 for the tennis range designed by Stella McCartney. She was seen in the Swimsuit Edition of 2009 Sports Illustrated.
3. Alex Morgan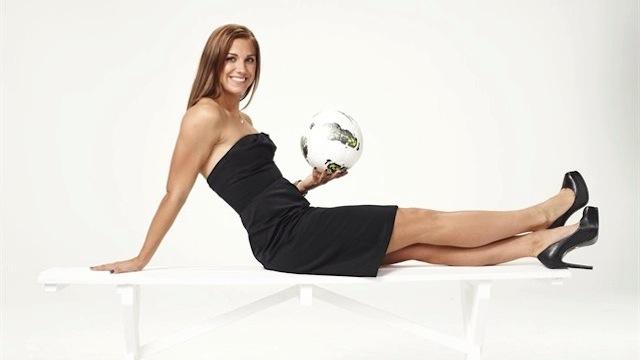 25 year old Alexandra Patricia "Alex" Morgan is a soccer player representing America who achieved a gold medal in the 2012 Olympics. She plays as the forward for the Portland Thorns FC team in the National Women's Soccer League. She is also a player in the national soccer team of the US, and is in fact the youngest one at the FIFA Women's World Cup in 2011. As a player of the Western New York Flask team, she helped them achieve victory in the 2011 WPS. Besides having become a star player of her team at a very early age, and winning various accolades and setting records, she is also celebrated for her beauty, which has probably favoured her as she has succeeded in bagging a number of endorsement deals with well-known companies like Nike, Panasonic or Coca-Cola. She was featured in 2013 music issue of ESPN The Magazine 2012, Sports Illustrated Swimsuit Issue, etc.
4. Blair O'Neal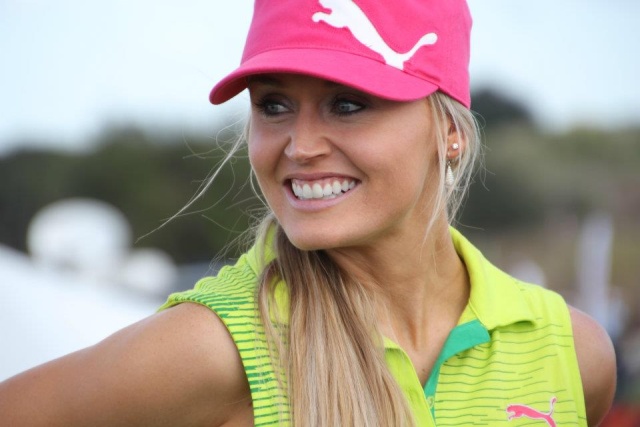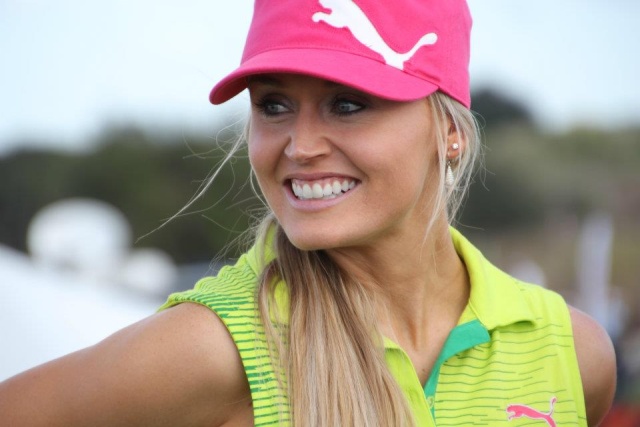 Blair O'Neal is a 33 year old who stepped into the golf world at the age of 11, which is when she was first introduced to it. In 2004 Blair started her career as a professional, but before that, she represented the Arizona State University. She had quite an eventful career then. She has achieved two NCAA Long Drive contests, and has also succeeded in bagging various other prestigious accolades and honours. She has remained successful as an amateur, as well as a professional. Besides, she is an extremely attractive woman. She was declared one of the Most Beautiful Women in Golf in 2013, as well as one of the Sports Illustrated Top 50 Hottest Athletes of All Time back in 2008. She has a successful modelling career too, and has several sponsorship deals with many top notch companies in the world of sports including the names such as Cobra Golf, Puma, etc.
5. Camille Leblanc-Bazinet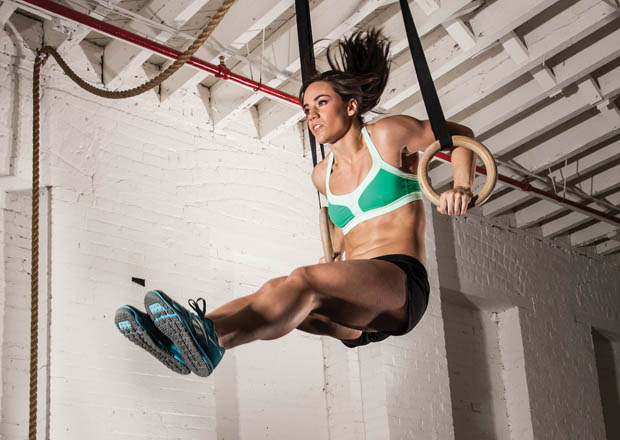 26 year old Camille Leblanc-Bazinet is a CrossFit athlete representing Canada. She clinched the victory in the 2014 CrossFit Games for the women's side, a feat she is best known for. An accomplished weightlifter, she has qualified for the national championship. Before becoming a professional CrossFit athlete, she was in gymnastics, but at the age of 16, a tear in her hip brought her career came to a halt. But, once she recovered, again came back to the world of sports and went on to take part in AA soccer as well as volleyball, and she was even the captain of the flag football team in college. She also partook in half marathons, in skiing and in rugby, but after she was told that she was out of shape, she moved to CrossFit. She was named the fittest woman on Earth by the Huffington Post. She has sponsorship deals with Reebok, Xendurance, WODshop.com, etc.
6. Hilary Knight
25 year Hilary Atwood Knight is an ice hockey player representing America. She plays in the position of forward in the US women's national team of ice hockey. She participated in the the women's ice hockey program of the Wisconsin Badgers, and also in the Choate Rosemary Hall. During the first year in which she participated in the University of Wisconsin-Madison, she succeeded in leading her team to the second position in the NCAA championships. She led her team in points the next year, as the Badgers emerged victorious in the National Championship. In the Winter Olympics of 2014, she scored her team's first goal in the entire event. She has succeeded in achieving several awards and honours, and has displayed great talent. Aside from being a probable ice hockey legend, she is beautiful. She was seen on the Cosmopolitan magazine's cover, and also has big-brand sponsors.
7. Sally Fitzgibbons
23 year old Sally Fitzgibbons is a professional surfer representing Australia, and has been noted for her performance in the Association of Surfing Professionals World Tour in 2013. She grabbed the runner-up place three times in the ASP Women's World Tour events in 2010, and in the next year, she achieved her first ASP World Tour event, obtaining two more in the same year. 2011 is thus the most successful year of her career. She has participated in various other events, and showed great skill. She successfully achieved a medal in many of these events. Aside from being a noted surfer, she has also played touch football, and been a national champion in the field of middle distance running. She is not only an extremely skilful athlete but also a very beautiful one, and has received attention, for her attractiveness, time and again. She has clinched various sponsorship deals, like Firewire surfboards, Roxy, Garnier, FCS fins, Red Bull, Mini, Urge, Waxaway and Nanotune.
8. Leryn Franco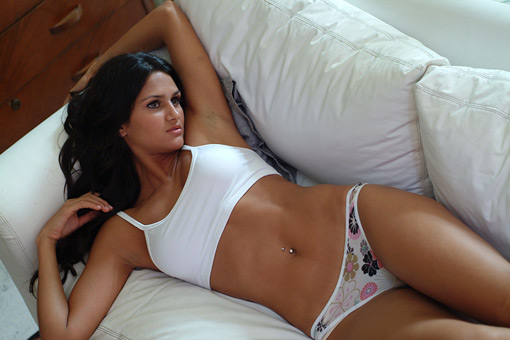 Leryn Dahiana Franco Steneri is 32 year old, representing her country Paraguay in women's athletics, with her forte being javelin throw. She has participated in several competitions and shown great athletic skills. She particularly became a sensation all over the internet during the Olympic Games of 2008. She reached her personal best throw of 57.77 metres in Barquisimeto, back in 2012. She has 3 gold medals, 4 silver medals and 3 bronze medals from different competitions under her belt, throughout during her sporting career since 1996. Leryn is popular for her modelling stints as much as her athletic achievements. The curvy blonde has been featured in the 2011 Sports Illustrated Swimsuit Issue. She has participated in several beauty pageants, and became 2006 runner-up Miss Universo Paraguay. Leryn has her very own calendar, too, photographed in 2007.
9. Hope Solo
33 year old Hope Amelia Solo is a soccer player representing America. She plays in the position of the goalkeeper for the national team of the US since 2000. She is also on the Seattle Reign FC team in the National Women's Soccer League. Solo is believed to be one of the best goalkeepers. She helped her team to reach several wins and make records, and has bagged the Olympic Games gold medal twice. She also obtained the Golden Glove award in the FIFA Women's World Cup 2011 as the best goalkeeper, and Bronze Ball award for her overall performance. Aside having great sporting skills which have led to several awards and accolades, she is also celebrated as a beautiful athlete. She was featured on Dancing with the Stars, and on many magazines, including the Body Issue of ESPN The Magazine. She endorses several big brands, like Nike, Blackberry, Ubisoft, etc.
10. Skylar Diggins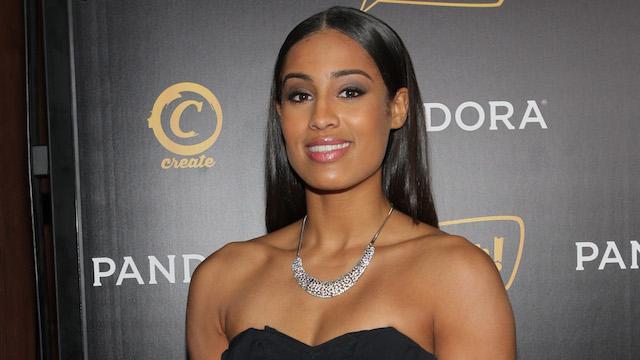 Skylar Diggins is a 24 year old professional basketball player from America. She plays on the team of Tulsa Shock in the Women's National Basketball Association. She plays as a point guard on the team. As a college player, she holds the record of being the all-time leading scorer for the University of Notre Dame. Her career as a basketball career started as early as in high school. She attended Washington High School in South Bend. She was selected as McDonald's All-American. She also went on to have a successful college basketball career. She became a professional in 2013. She has won many awards and honours, which include 4 gold medals at different levels. She is also known for her slender physique and sharp features. She was included in the Faces in the Crowd segment of the Sports Illustrated issue in 2009. She also appeared in the Television film Wild 'n Out.
Several other female athletes are also celebrated for their beauty besides their athletic skills. Athletes like CrossFit athlete Christmas Abbott, professional rock climber Sierra Blair Coyle, MMA fighter Rachel Cummins, tennis legends Maria Sharapova and Serena Williams are all reputed as the beauties of the sports world. Each represents a different kind of beauty, and has proven, with hard work and achievements, that a woman's worth is measured not by her beauty but by much more than that.