Unknown Facts About Michael Jordon
Michael Jordan, the name that is enough to state everything, is still considered as the greatest basketball player ever, even after many years of his retirement. It is also written in his biography on the NBA website, "By acclamation, Michael Jordan is the greatest basketball player of all time." After being drafted as the 3rd pick of the first round by the Chicago Bulls in 1984 NBA Draft, he made countless achievements. He led the bulls to victory of NBA championship six times and also became the NBA Finals MVP in all of the six championships. He became NBA Most Valuable Player five times and made it to NBA All-Star team a groundbreaking 14 times out of which he became the NBA All-Star Game MVP thrice. He made 32,292 points in his entire career with 30.7 point per game average. He was named the greatest North American athlete of the 20th century by ESPN in 1999. Besides basketball, he is even more popular among kids for his movie The Space Jam with Bugs Bunny. There are endless facts about him that create sensation in any fan's heart. So here is the list of 10 unknown facts about Michael Jordon.
You May Also Like: Most Popular Sports in the World
10 Unknown Facts About Michael Jordon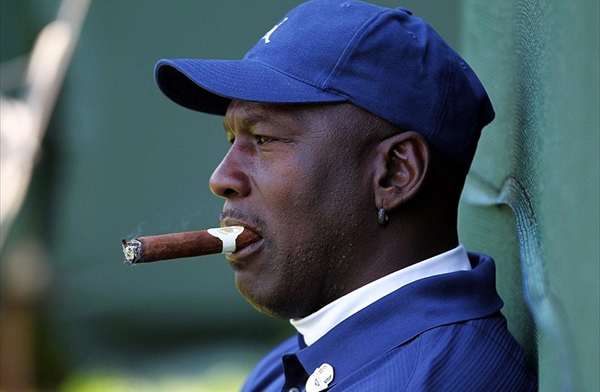 A genus of Salmonella bacteria was named after him
#1 Unknown Facts About Michael Jordon
Infectious diseases causing bacteria, Salmonella, was discovered long time ago in 1885. Two types of bacteria from Salmonella family were found earlier which are Salmonella bongori and Salmonella enterica. Dr. Stanford Shulman diagnosed one of his patients to have Salmonella in 1993. The patient was checked for the bacteria in the Atlanta Center for Disease Control and Dr. Shulman found that this patient was infected with a type of salmonella which was previously undiscovered. To honor basketball legend Michael Jordan, he named the newly discovered species as Salmonella mjordan. While remembering the incident, Dr. Shulman stated, "I am such a huge fan of Michael Jordan. I have a big stand-up poster of him in my office. I thought I would name this strain of salmonella for him."
You May Also Like: 10 Amazing Fact about LeBron James
Supreme Leader of North Korea Kim Jong il had his autograph
#2 Unknown Facts About Michael Jordon
North Korean supreme, Kim Jong il, loved to work at night to run his country and was famously known to be a hardcore nocturnal person. After his famous nuclear missile tests which sent waves of fear throughout the globe, especially through China and South Korea, United States Senator Rick Santorum stated, "Kim doesn't want to die, He wants to watch NBA basketball." For his true attachment with basketball, Secretary of State Madeline Albright gifted him an authentic NBA basketball autographed by Michael Jordan, which made him smile. The ball is presently secured in North Korea's Museum of International Understanding, besides a crocodile handbag from Fidel Castro and a Russian rifle given by Vladimir Putin.
You May Also Like:10 Unknown facts about Neymar
He really loves Cigars
#3 Unknown Facts About Michael Jordon
In an interview for the 2005 July/August edition of Cigar Aficionado magazine, Jordan answered everything from normal basketball questions to the in-depth question about his love of Cigar. He admitted on the interview that he started to have a puff in 1991, and by 1993, while in his top form, he became a daily smoker. Jordan also accepted that he always loved to smoke a cigar while driving back from the stadium after a match as a stress buster. Jordan's house has 11 bedrooms, a pool house, guest house, guard house, a Jack Nicklaus Bear Club and a movie theater. The movie theater was also specially designed to handle huge amounts of cigar smoke because of Jordan's love of smoking even when he enjoys a movie.
You May Also Like: 10 Unknown Facts about Lionel Messi  
He donated his whole salary of 2001-02 season to 9/11 charity fund
#4 Unknown Facts About Michael Jordon
After Jordan's sudden decision of retirement in 1993, he made a comeback in 94-95 season, with a transfer fee around 90 million. Along with transfer fee itself, he also earned a huge amount of money for his innumerable endorsements by big brands such as Nike and Wheaties, which made him super rich. After the 9/11 incident, he donated his entire year's salary of 2001-02 season to various charities which helped and worked for the families affected by the incident. He donated $100,000 to the Washington Sports and Entertainment Education Fund established by the owner of Washington Wizards Abe Pollin and distributed the rest of his salary to various other organizations and relief funds which were working in 9/11 relief efforts that time.
You May Also Like: 25 Interesting Facts About Tendulkar
His first cartoon
5. Unknown Facts About Michael Jordon
Most people think that Jordan's first relation with Bugs Bunny started during Space Jam in 1996, while many more think that the saga actually started when he featured in a Nike commercial with Bugs Bunny in 1993. But the interesting fact is that, he debuted in a cartoon show called Pro Stars way back in 1991 with Bo Jackson and Wayne Gretzky. He was casted as the leader of a squad of superheroes, which consisted of Gretzky and Bo in the cartoon. His character was voiced by Dorian Harewood, and the cartoon show was only telecast for 13 episodes. Along with this three sports athlete, Marv Albert and Mike Fratello were also featured in the cartoon as a special appearance.
You May Also Like: Top 10 Most Difficult Sports to Play
His worst was better than his next-gen's best
#6 Unknown Facts About Michael Jordon
The 12th draft by the Miami Heat in 1992, Harold Miner, was the first to be named as the "Next Michael Jordan" and was widely called "Baby Jordan" for his skills with the basketball. After dominating the events of National Collegiate Athletic Association during his University of Southern California days, Harold was drafted with huge expectations. But sadly, he failed to meet the expectation and lasted only four seasons in major leagues. His yearly average was just nine points, two rebounds, and an assist in the NBA with the best performance in 1994 where he averaged 10.5 points, 2.5 rebounds and 1.5 assists. And the worst performance of Jordan was with an average of 12.5 points, 1.6 rebounds and 1.2 assists, which is far better than the Baby Jordan.
You May Also Like: Golf Hall of Fame 2015 – Top 10
He had second most expensive divorce in sports history
7. Unknown Facts About Michael Jordon
Jordan was married to Juanita since his second season with the Chicago Bulls in 1989. After a small Las Vegas wedding, the duo enjoyed 17 years as a couple with their three children. Juanita first filed for divorce in 2002 which was later dismissed because both of them wanted to work on the broken relationship instead of divorce. But after it was proved that Jordan paid $250,000 to his former lover Karla Knafel just to keep their affair a secret, Juanita finally filed her divorce with Jordan in 2006. The duo then split with a settlement of $168 million, which is second most expensive divorce in sports field after Chelsea F.C's owner Roman Abramovich's divorce of $300 million with Irina Abramovich.
You May Also Like: Cricket Hall Of Fame 2015 – Top 10
He was once casted in a commercial for a women's hair product
8. Unknown Facts About Michael Jordon
Michael Jordan was casted in various ads and campaigns by various big brands such as Nike and Adidas. He was also featured in various TV commercials for different products. But his commercial for a women's hair product called Gentle-Treatment Hair Relaxer was beyond any comparison. Michael Jordon with his bald head doing an ad for hair care is a funny thing in itself, and the ad being for ladies' with long hairs is a bit too far. The ad for the hair relaxer was first aired in 1986 and can still be traced in popular video hosting sites like YouTube. We are no one to decide whether the ad was good or bad, but as a fact, the ad got around 56 thousand views in Youtube after it was uploaded in 2006.
You May Also Like:  Tennis Hall of Fame 2015 – Top 10
He never saw his ball going into the basket over Craig Ehlo
9. Unknown Facts About Michael Jordon
The best basket by Michael Jordan was made against the Cleveland Cavaliers in the Coliseum at Richfield in the First Round of Game 5 of the 1989 Eastern Conference. The basket hit in that classic game is still considered as the best of Jordan and is also regarded as one of the best in basketball history and was named "The Shot." But according to Jordan himself, he never looked at the basket when he threw the ball over Cavalier's star Craig Ehlo. Jordan made the shot, and the crowd responded to his success, irrespective of the fact that he himself never saw it going into the basket. While remembering "The Shot", Jordan stated, "I never saw it go in, but I knew right away from the crowd reaction—silence—that it was good. Then I did something maybe I shouldn't have. I really celebrated and shouted."
You May Also Like:Soccer Hall of Fame 2015 – Top 10 
He once wore jersey no.12
#10 Unknown Facts About Michael Jordon
A mesmerizing unknown thief at the Orlando Arena snuck into the Chicago Bulls locker room about 90 minutes before the team started the game on Valentine's Day in 1990. The thief then stole one of the costliest mementos from basketball history he/she found in the locker room, the No.23 jersey of Jordan. Without having any other jersey of the same number, and after trying a young fan's replica in which Jordan failed to fit in, he started the game wearing Jersey No.12, and became the most popular and the very best player ever to wear a No.12 jersey. While talking about the incident, Jordan told the Orlando Sentinel, "That has never happened to me before, it's pretty irritating because you're accustomed to certain things and you don't like to have things misplaced." Jordan played well, wearing that jersey, and scored 49 points, but sadly, bulls lost the match by 129-135.
However, the most significant and the mesmerizing fact about Michael Jordan is still surrounded by his dining table in his house. The artist who created it for Jordan's house according to Jordan's instruction made the table look like a chunk of metal with a bunch of holes in it. But the amazing part about the dining table is that, it has exactly 32,292 holes in it, which is the number of points that Jordan scored in his entire career.