Best Haircuts in Football
Style: that's what comes after their skills with the ball during FIFA world cups. After the constant vigilance of the paparazzi, even the players don't hesitate to flaunt their looks as they come up with different varieties of wardrobe and haircuts. Media and all the sports fans were speechless when football legend Gheorghe Hagi and his Romanian teammates showed up in 1998 FIFA World Cup with their bleached blonde hair look. They looked almost the same whenever they stood up for their national anthem before matches, and it was even more difficult to differentiate the players of the Romanian National team during the gameplay. After they had made it to the top of their group which also contained England and reached pre-quarterfinal, they revealed that the all blonde style was actually to quickly spot team members on the ground for better passing accuracy. Throughout the history of FIFA World Cups or its qualifier rounds, players had some amazing hairdos, of which some were better than the others. So here is the list of 10 Best Haircuts in Football World Cup.
Top 10 Best Haircuts in Football World Cup
.
10. Ronaldinho
Brazilian legend Ronaldinho was enlisted in the world's greatest living players called FIFA 100 compiled by Pelé. This ever-smiling curly haired star was also included in FIFPro World XI from 2005 till 2007. Ronaldinho was a huge attraction for media before the 2002 World Cup for his skills and also for his marvelous hairstyle. All the audience on the ground also shook their hairs along with the star himself when he scored his first goal against China in the group stage. He adopted his famous 'curly hair with a sweatband' style during his early days mostly because his natural hair is curly. This long-haired star was also an attraction for big brands. Ronaldinho had endorsements with many companies, including Pepsi, Coca-Cola, Nike, Gatorade and EA Sports, which earned him over $19 million in 2006.
9. Carlos Valderrama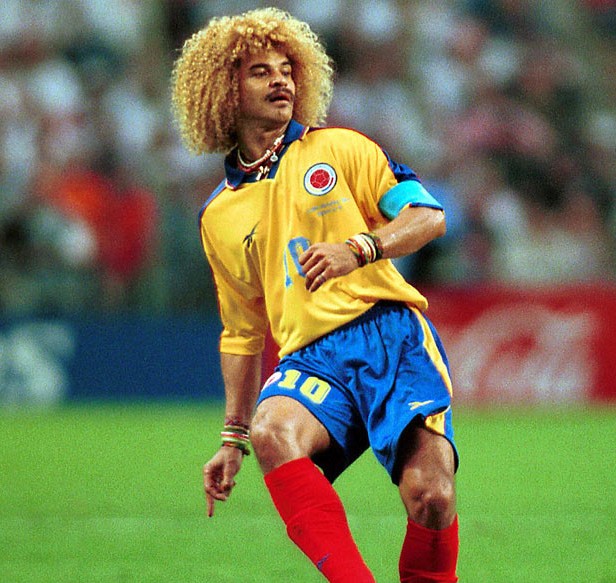 In 1990s, Carlos Valderrama played a major role during the golden era of Colombian football. Besides his wonderful passing and dribbling ability on the ground, he was also very much appreciated for his blondish orange Afro. His hairdo was idolized by many during the 1990 FIFA World Cup. The hype was increased when he made a crucial pass to his teammate Freddy Rincon to equalize in the last minute of a group stage match against Germany, which saved his national team into the next round. This hairstyle is also featured in his 22 feet bronze statue in his birthplace Santa Marta created by Colombian artist AmilkarAriza in 2006. He may not have won the World Cup for Colombia but has stayed in the heart of many fans even today.
8. Zlatan Ibrahimović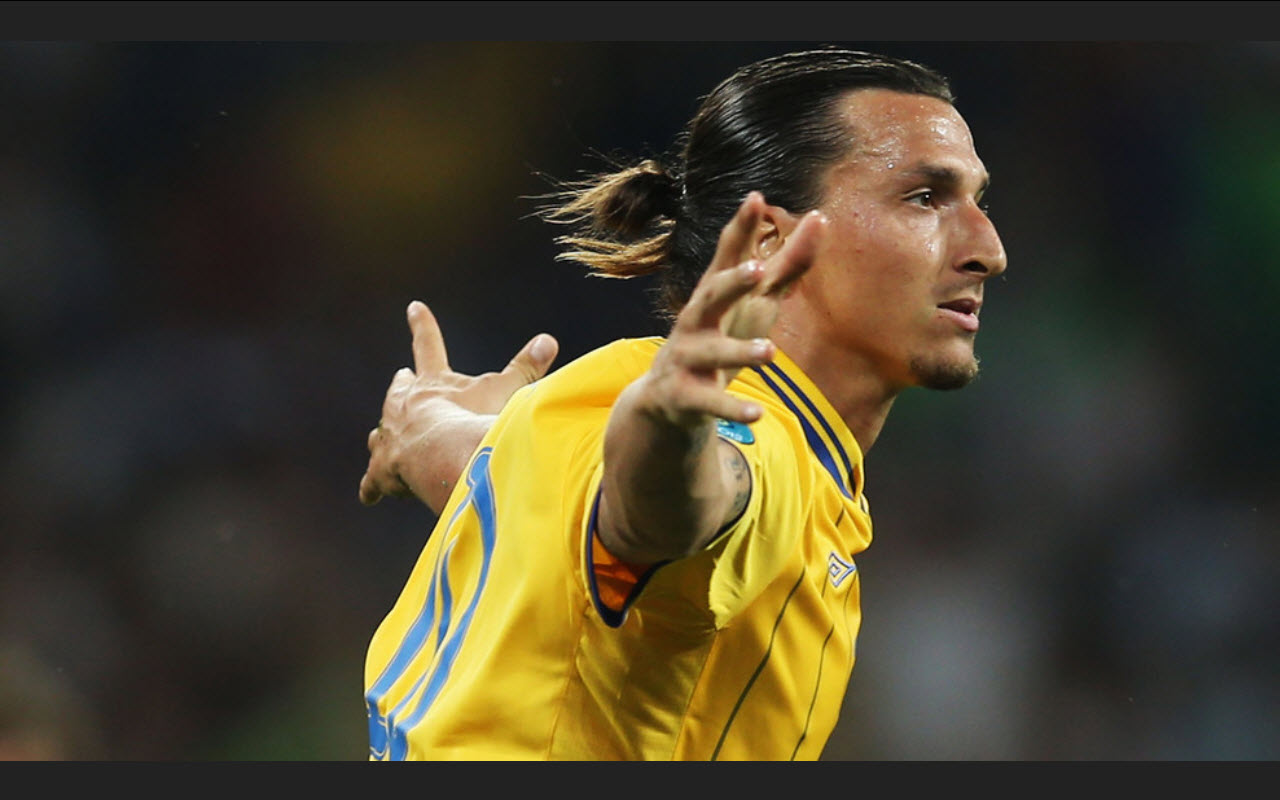 Zlatan Ibrahimović was ranked as the third-best player in the world by The Guardian. With incredible styling sense, this super tall footballer is a legend of his time. His wide popularity rose after he became the captain of the Swedish national team. Along with his super speed and agility during the match, he is also famous for his rugged personality and his top knot hairstyle. His rising pony was widely copied after he scored an international hat-trick against Scandinavian rivals Norway at the Friends Arena in 2013. His fantastic bicycle kick with a super samurai appeal won the 2013 FIFA Puskás Award for Goal of the Year. He started his hair journey from a big man's top knot and is still carrying a similar version of it with a mix of a pony-tail, during his legacy with Paris Saint-Germain in recent days.
7. Cristiano Ronaldo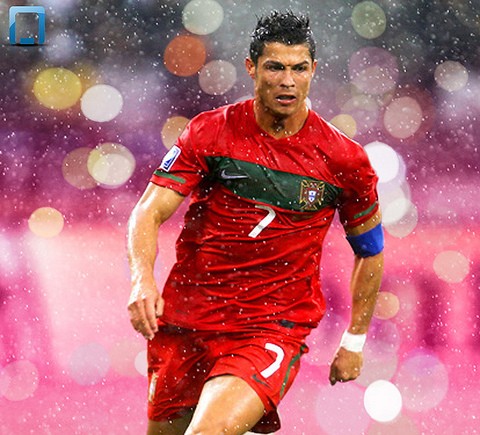 Portugal national team captain Cristiano Ronaldo is always a style icon and remains the same for the football fans starting from his early days. He started with a Mohawk, complemented by a bit of faux and mullet; then came his famous all gel era, and after that, the blonde spike which suits him the best. This two-time Ballon d'Or winner was admired by media, when he showed up with his spike look in 2010 FIFA World Cup. Even during his recent World Cup appearance in 2014, he won millions of hearts by his zigzag hair style on the side of his dome. Ronaldo was always a money machine for his style sense as he was a very popular attraction for big brands. He secured third place in the list of world's highest paid footballers after David Beckham and Lionel Messi, with €30 million per year according to France Football.
6. Mario Balotelli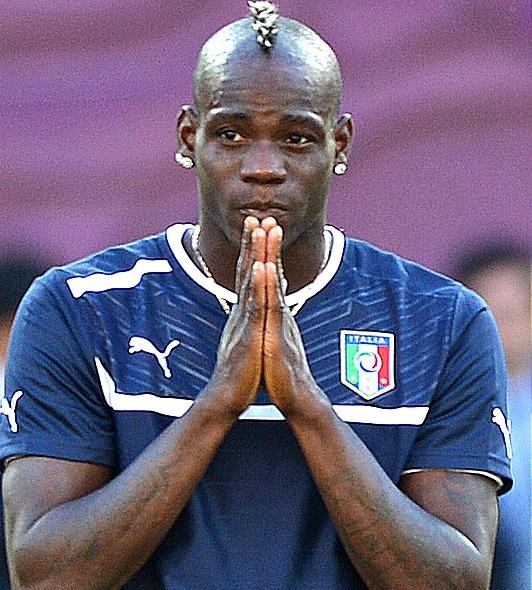 Recently, this Italian football star created huge media attention when his girlfriend Fanny Neguesha, who is a dancer, actress and singer, publicly spoke about their engagement. He is always an eye catcher, even when he is out of the ground, for the media. His huge number of fans saw him with various haircuts such as the Afro, clean shave or just a strand in the middle of his dome. He went insanely popular on Twitter before 2014 World Cup, for the shaved tribal patterns on the sides of his head. Balotelli was always as crazy as his low Mohawk. When he was involved in a car crash carrying £5,000 cash within few days of joining Manchester City, he was taken to the police custody and when police officers asked why he had such a large sum of cash, he replied, "Because I am rich."
5. Rio Ferdinand
Rio Ferdinand once stated "I always as a kid wanted to do something different," and he successfully did that while adopting various hairstyles throughout his career. He showed up with his crazy anger appeal for the first time internationally during 2002 FIFA World Cup when he scored for his team against Denmark on the second round match, although some suggested it was Thomas Sorensen's own goal. His ultra-skinny cornrows in his early career earned him a huge popularity in the media. In June 2006, Ferdinand made his début appearance as a sportscaster in Rio's World Cup Wind-Ups on the day of the England national team's opening World Cup group match against Paraguay.
4. Ronaldo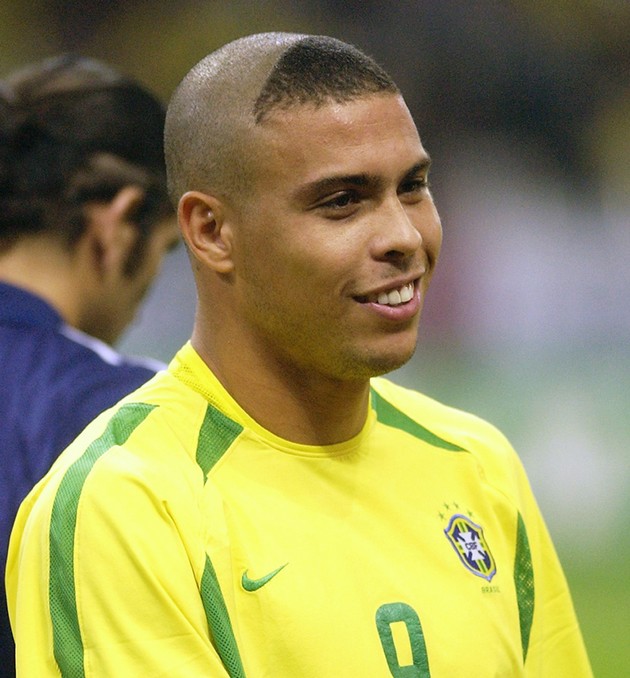 Ronaldo was named in the greatest ever starting eleven in 2007 by France Football magazine. No one from the soccer field can ever forget his amazing skills with the ball, super agility inside the penalty area and his famous hairstyle during FIFA World Cup 2002. He showed up with a clean shaved head except for a small wedge patch at the top of his forehead which went viral among all the fans within 24 hrs of his appearance with the new hairstyle. Lene de Paula, a street corner barbershop owner of Ronaldo's birthplace, said during the 2002 World cup season, "Since Ronaldo cut his hair this way; I've done more than 50 heads." Even recent day superstar Neymar stated while remembering Ronaldo, "In 2002, I had a haircut like Ronaldo's."
3. Roberto Baggio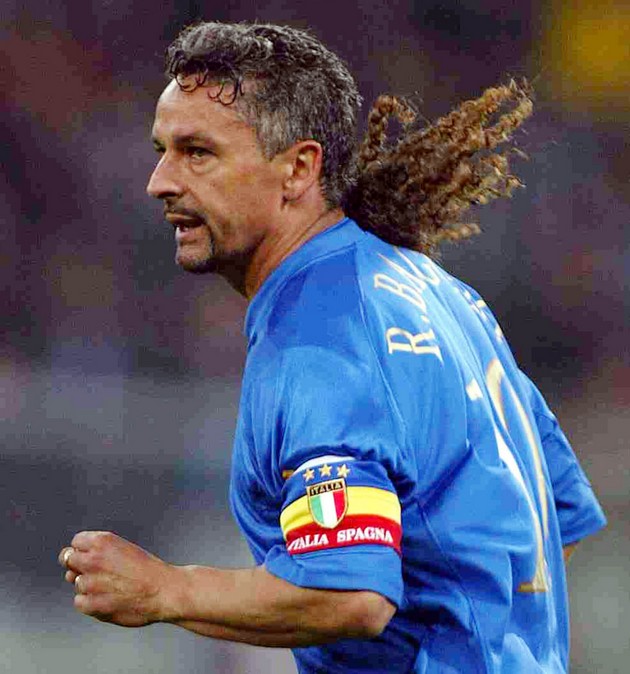 Italian star Roberto Baggio won Ballon d'Or and FIFA World Player of the Year in 1993 and also placed in the FIFA 100 list of the world's greatest living players in 2004. This attacking midfielder is widely known as 'the divine ponytail' for his hairdo during 1994 FIFA World Cup. Mullet was a favorite hairstyle during early 90's, and he took it to the ultimate level when he mixed his mullet with braids. It seems he was a bit confused about what to choose between mullet and braid, and ended up in braided rattail mullet hair. This eccentric hairstyle was so popular during the 1994 FIFA World Cup that half of his fans started to grow their hairs the way their favorite star did. His football journey was ended with his official retirement, but his skills and hairstyle will remain popular forever.
2. Chris Waddle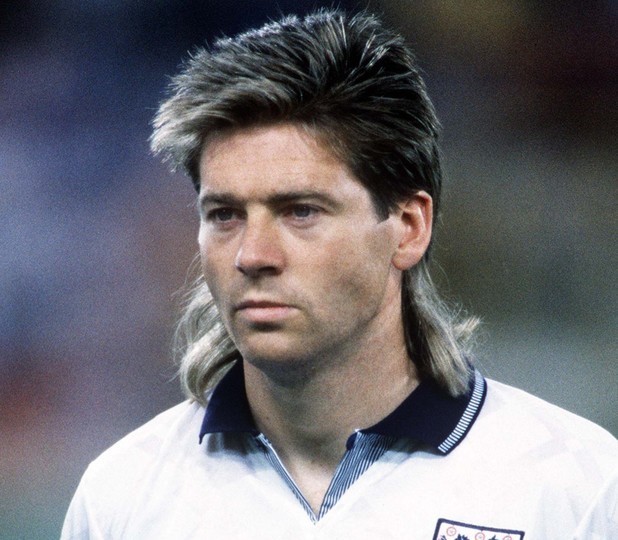 Chris Waddle missed the decisive penalty in 1990 FIFA World Cup semi-final shootout against West Germany but remains as a heartthrob for his huge number of fans. This former England winger showed up in his top form with his famous mullet when he led his team to the semi-final in 1990 World Cup. Remembering his favorite hairstyle, he once said, "I once had a penalty shootout with Rudi Voller to decide who had the best mullet." He might not have pioneered the mullet, but he made that hairstyle widely popular among all the soccer fans. Complementary to his popularity, he wrote a column in The Sun newspaper and appeared on BBC Radio Five Live as a summarizer at Premier League after his retirement.
1. David Beckham
During his career all of his fans wanted their hair to bend it like Beckham. He has often been in the news and various covers of world's top magazines for his innovative and sexy hairstyles. At the 2002 World Cup in South Korea and Japan, Beckham appeared with a mix of faux and Mohawk above his head which created a sensation within a very short time. Everybody sat in front of their televisions to see style icon Beckham with his fauxhawk. Due to this famous 'fake-mohawk' fauxhawk, Adee Phelan, his hairdresser, had also become very popular in the hair styling field. No one needs to say anything about Beckham's popularity, but as a side note, Adee won the image of the year award 2002 after he created David Beckham's mohawk in the GQ shoot.
Starting from the very first World Cup that was conducted till the recent World Cup in Brazil, the World Cup had seen some amazing hairstyles of the footballers which wwere emulated more than a million times by their fans. A new app called Nike Barbershop is also there in the Android market to adorn a selfie with ten famous footballers' amazing hairstyles that can be also shared with friends through social media.