Good Looking Hairstyles of Athletes
The presence of different athletes with their flamboyant personalities and various hairstyles on the ground are always worth cheering for. Styles and looks always played a distinctive role in international sports history. Starting from the 90's Mullet till the eccentric cuts of modern day athletes and sports stars, they were copied heavily by their followers all the time. It gets most sensation during the World Cups and popular events like Olympics as we saw various players of different national teams already on the covers of magazines with their famous haircuts, after this year's football World Cup. Every footballer has his own unique style and has his own unique way to shape his hairdo, some of which look much more attractive than the others. So here is the list of 10 Good-looking Hairstyles of Athletes.
10 Good Looking Hairstyles of Athletes
.
1. David Beckham
There was a time when Beckham underwent complete makeovers, almost every six months. Changing hairstyles was also a major part of his career all through, and even after his retirement. He tried almost everything, starting from feather, spike, corn row and slick back till he changed his hair color to brown, brunette and sometimes, even Hollywood blonde. One particular hairstyle that caught his fans' eyes the most was the medium length blonde Mohawk.  Style icon Beckham even has his own line of fragrances and aftershave called David Beckham Instinct. He was widely believed to be the ultimate "metrosexual" by his fans and followers starting from 2002. And one interesting facts is that, "David Beckham" was searched the most in the world in 2003 and 2004 according to Google.
2. Cristiano Ronaldo
Cristiano Ronaldo carried various haircuts throughout his football journey starting from his early days. Even in the recent World Cup 2014, he made a huge sensation with his zigzag side cuts. While looking at his hairstyle journey, it seems he has the ability to style his obedient hair in any way he wants. But he went viral when he tried to mix up his hair with curled bangs and a typical Mohawk. He has almost the same popularity among girls as Beckham does. Ronaldo has previously dated English models Gemma Atkinson and Alice Goodwin.  After that, he has been dating Russian model Irina Shayk since 2010. Money, fame and parties are always part of his life, as Daily Mirror once reported him drinking heavily in a nightclub during his Manchester United days.
3. Carlos Valderrama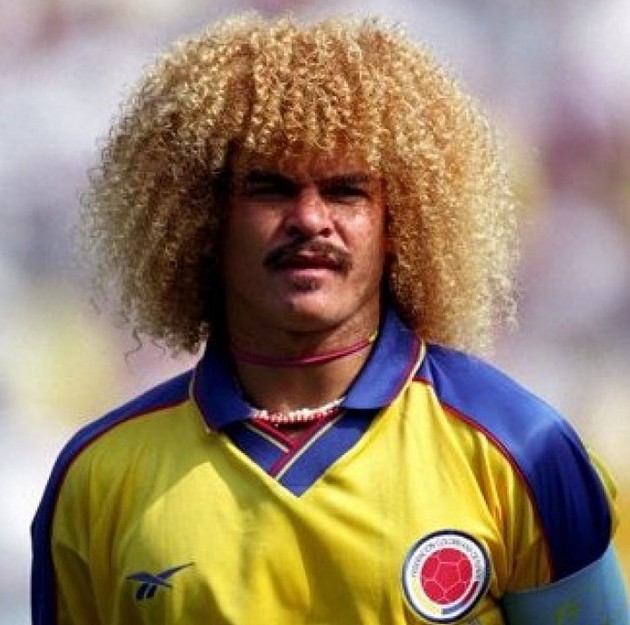 The only Columbian to feature in FIFA's 125 Top Living Football Players list in March 2004, Carlos Valderrama was a classic beauty during his soccer days. This Colombian football megastar was idolized as a style icon during his legacy, mostly for his glorious haircuts. Throughout his career, he showed up with the mound of fluffy blonde curls which was complemented by colorful bracelets on his wrist. His 22 feet bronze statue created by Colombian artist AmilkarAriza in 2006, outside Estadio Eduardo Santos in his birthplace Santa Marta, also has the same hairstyle. Valderrama, with his nickname El Pibe and yellow hair, appeared on the cover of International Superstar Soccer Pro 98. He still carries the same hairstyle while coaching Clearwater Galactics Football Academy in Clearwater, Florida.
4. Andre Agassi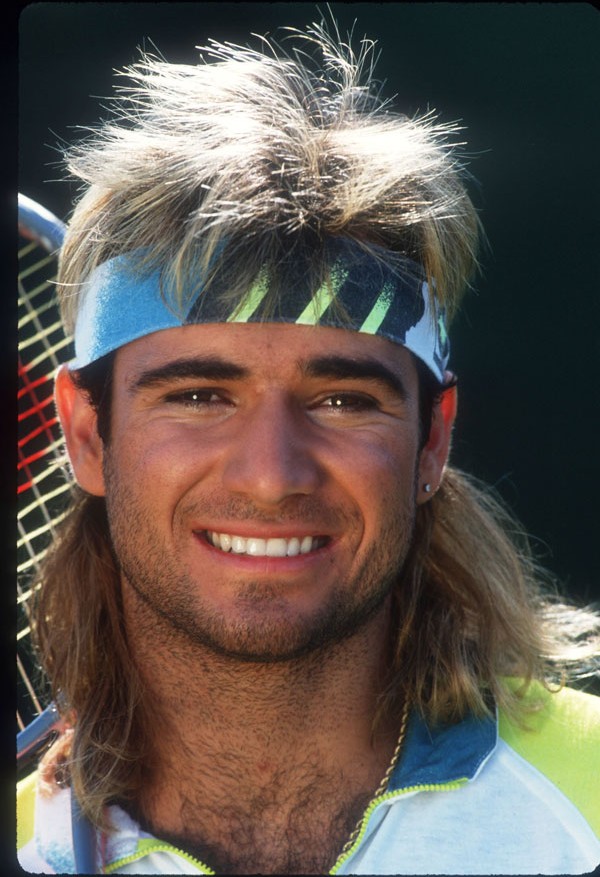 Andre Agassi was very popular for his feathered mullet during his legacy. Because of the large popularity he created through his hairstyles, he even thought once that he couldn't live up to the fan's expectations. He later also admitted that he used wigs to complement his famous mullet. Agassi was also crazily popular among the girls during his time for his catchy looks and also for his super hairstyles. He dated American entertainer Barbra Streisand in the early 90s who is twenty-eight years older than him. He once said, "Dating Barbra Streisand is like wearing Hot Lava." After this relationship got messed up, he was married to Brooke Shields in 1997 which ended with a divorce in 1999. But he created the most sensation when he married tennis legend Steffi Graf on 22 October 2001.
5. Tom Brady
Famous American football quarterback Tom Brady did everything with his hair, starting from trying hair colors like brunette or blonde, to sporting the unique hairstyles like mullets and corn rows to complement his carefully careless look. But he went viral among his followers when he came on the ground with his golden yellow hair flip. He was also very popular among the ladies for his charming looks and changing hairstyles. Tom started dating Brazilian supermodel Gisele Bündchen in December 2006, which was initiated as a blind date by a mutual friend, according to Details Magazine. This celebrity couple moved to a $20 million mansion in Los Angeles on January 2012 after their marriage on 2009. Tom also bought a $14 million condominium in Manhattan to complement his stardom.
6. Jaromir Jagr
In the history of hockey, JaromirJagr had one of the most popular mullets during his Pittsburgh Penguins days in early 90s. He complemented his free-flowing mullets with a single strand of feathered hair and a touch of mustache on his face. Jaromir became very popular as a style icon among the NHL fans when he wore his famous No. 68 jersey with this glorious haircut. There was also an interesting fact about his jersey number, which came to honor his grandfather, who died while in prison during Prague Spring rebellion that occurred in 1968 throughout Czechoslovakia. He was hugely endorsed by various big brands for his superb style statement which made him super rich.
7. Iman Shumpert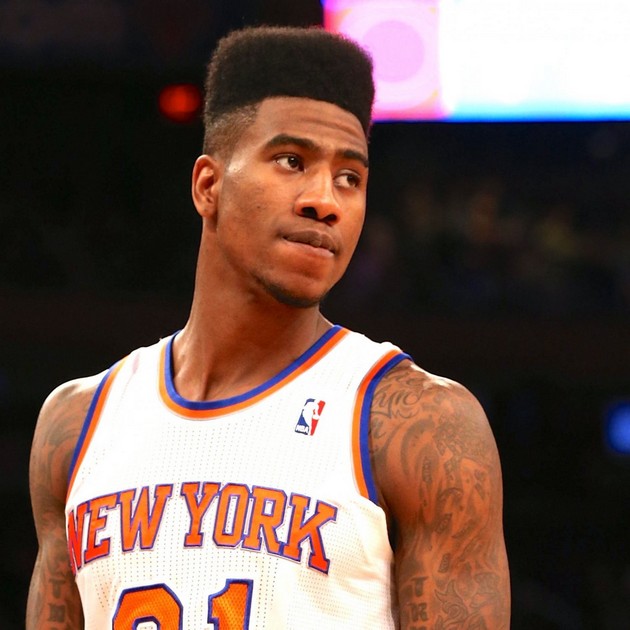 Iman Shumpert is the one who made the flat top hairstyle popular among the street kids. Flat tops were a common hairstyle during early 90s, but he added twists to this classic when he made it a little asymmetrical. He also made different designs in his side locks and even slightly above the locks to complement his famous flat top. He was criticized by his fans in October 2013 when he shaved the fade. Not only is his hairstyle, Iman is still very popular for his activities outside the sports field. He debuted in rap music in 2012 and released the song "Knicks Anthem." He also debuted in mixtapes under the name "2wo 1ne" in his first mixtape album "Th3 #Post90s"  In response to the song "Control" by Kendrick Lamar, he also released his own song "Dear Kendrick" in 2013.
8. Metta World Peace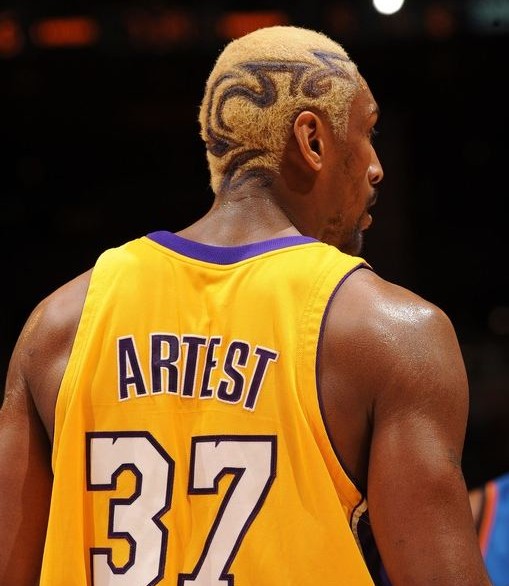 The hairstyles of Metta World Peace has a huge history. He repeatedly switched his hair color along with weird shapes on his dome. The shapes he made in his hair were typically geometrical diagrams, and many times, it was much of a message-oriented shaving, while he had Chinese characters or specific team names shaved on his head.  He was popular for his changing looks as he was also a sensation in the screen entertainment field. He announced in April 2010 about the future plans for his own reality show called "They Call Me Crazy" in collaboration with E1 Entertainment and Tijuana Entertainment. He also featured in works by 30 American and Canadian artists, sculptors and painters inspired by athletes, in an art show called Lovable Badass held in Toronto, Canada on December 18, 2010.
9. Paul Scharner
Paul Scharner was voted the most popular player by the fans in Norway and Austria. He is widely known for his various hair styles throughout his soccer journey. One of his famous hairstyles was short Mohawk with multiple colors, mostly black and white. He showed up with an unknown version of salt and pepper, where he dyed in black and white respectively, each side of his dome on different occasions of football, as well as skiing or motorcycling. In 2010, while leaving the Premier League club Wigan Athletic, he dyed the word "Thanx" on the back of his head with blue and white, which is also the color of the club's jersey. Irrespective of his marriage to Marlene with whom he has three sons, Paul has a huge number of female fans.
10. Coco Crisp
Coco was one of the best center fielders of Major League Baseball for the Oakland Athletics. He also played and created records for Boston Red Sox, Kansas City Royals and Cleveland Indians. He was widely popular for his skills and also for the crisp look he carried throughout his career. He was seen in cornrows, longer braids and shaved head, along with his most famous hairstyle, the Afro. His sister gave him the nickname "Coco" because he looked like one of the characters on the Cocoa Krispies cereal box in his childhood days. This name got widely popular when his teammates put it on the scoreboard during games in his early days. He made this name original when he officially changed it on March 5, 2013.
NFL, FIFA World Cup, NBA, MLB- these are some of the major tournaments in which all the fans can enjoy the hairstyles of their favorite sports stars. According to the modern styling trends, it seems many different hairstyles are yet to come in the future from our favorite athletes. So visit the ground and devour in the appeal they create during the matches with their hairdos.