Cristiano Ronaldo Net Worth
Cristiano Ronaldo dos Santos Aveiro is known to the world as Cristiano Ronaldo in short, and is one of the greatest footballers of today. He was born on the 5th of February in 1985 in Funchal, Madeira, in Portugal, and is 29 year old. Ronaldo has already reached a great height of success in the industry. He is a hugely popular player. On one hand, millions of fans want to watch him play, and on the other hand, there are companies who want him as their ambassador. As one of the highest earning athletes in the world today, he receives his earnings from his salary from games and events, and also from the endorsement deals. Let us consider Cristiano Ronaldo Net Worth 2015.
You May Also Like: Highest Paid Footballers 2015
As per the list of The World's Highest-Paid Athletes published by Forbes, the international soccer star from Portugal, Cristiano Ronaldo, who is 29 years old, has a total income worth $80 million last year which helped him secure the second position on the list of richest players. He earned salary worth $52 million from his long time club Real Madrid. He also earned endorsement deals worth $28 million by reputed brands. He had a recent deal with Tag Heuer, while he has a long term deal with the sports mega brand Nike, which have together made an important contribution to his total earnings. He even has the personal brand of underwear label CR7. Cristiano is currently in a tie-up with the sports agency, Gestifute International with Luis Correia serving as his agent.
You May Also Like: Hottest Soccer Players 2015
Besides being popular his amazing display of skill and footwork on ground, Cristiano Ronaldo is also quite well-known for his luxurious car collection. The space in his garage and the amount in his bank are enough to support his desire for the luxury cars. Currently, Cristiano is the proud owner of a total of 19 cars worth a fortune of $4,912,000 USD, as a part of his collection. His amazing collection has Audi R8, Audi RS6, Maserati GranCabrio, Ferrari 599 GTO, Lamborghini Aventador LP 700-4, Porsche Cayenne Turbo, Mercedes-Benz C220 CDI, Aston Martin DB9, and Phantom Rolls-Royce, all known for famous as super luxurious cars. But, it proved him as a real car fanatic when he purchased the Bugatti Veyron with $1,700,000.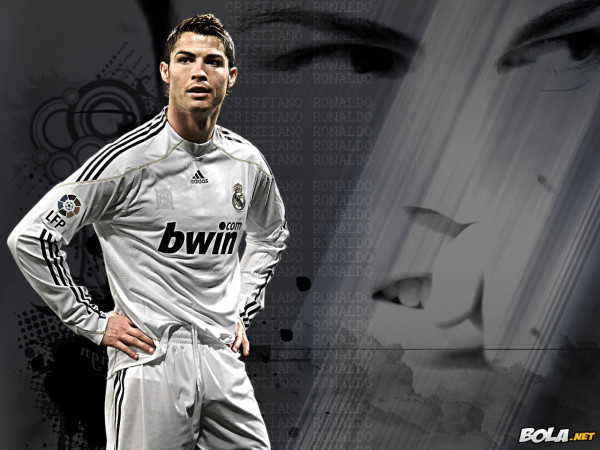 You May Also Like: Handsome Athletes 2015
Having his long-time contract extended recently with Real Madrid, Cristiano Ronaldo currently makes an estimated €17,000,000, which is approximately $22,620,000, per year, from the Spanish club Real Madrid. It nearly sounds unbelievable that he makes around €46,575 on a daily basis as his salary from his club. Besides, he also has a transfer buyout clause of 1 billion euros on his contract that he signed with Real Madrid in 2009. As a real fact, Cristiano Ronaldo earns €32 per minute, even if he is juggling the football, eating or sleeping. As Cristiano earns a massive €1,000,000 each month monthly basis, his greatest competitor and one of the top footballers of modern times, Lionel Messi, is still behind him with and income worth €875,000 on monthly basis.
You May Also Like: Handsome Footballes 2015
Cristiano Ronaldo is the proud owner of a super-luxurious mansion in Madrid which is worth more than $7.2 million. Architect Joaquin Torres designed the mansion with all the luxury that it offers. The mansion is of one story, and it spreads in 8600 sq. feet. The Madrid mansion comprises seven grand bedrooms, eight bathrooms, a trophy room and a number of kids' rooms. Cristiano made a purchase of another grand mansion in a village in Cheshire, England, named Alderley Edge, back in 2006, for more than $6 million. Inside the Cheshire mansion, there are five bedrooms and his/her bathrooms, as well as luxurious facilities like swimming pool, sauna, cinema and his favorite "media room".
You May Also Like: Hottest Female Footballers 2015
Cristiano Ronaldo donated a generous amount of £100,000 to a Madeira hospital, following which the life of her mother was saved while she was in her battle with cancer. When he talked about the donation, Ronaldo mentioned that he did it so it would help set up a cancer centre in Madeira. He played a charity match in Madeira between the Primeira Liga club FC Porto and group of Marítimo and Nacional players to lend support to the victims of the Madeira flood of 2010. Cristiano Ronaldo made the payment for a nine-year-old Canarian boy's specialist treatment for his terminal cancer in 2009. He even sold away the golden boot he had achieved in 2011 for an approximate amount of €1.5 million and in November 2012, he donated this amount to the fund schools for children in Gaza.
You May Also Like: Ronaldo HD Wallpapers 2015
Since his rapid growth of reputation during his time at Manchester United, Cristiano Ronaldo has entered many endorsement contracts with various reputed brands. In October 2009, he became the new "spokesmodel" for Emporio Armani men's underwear and jeans back. In February 2010, Ronaldo signed an extension of contract with American sportswear company Nike till 2014. Ronaldo has always been spotted playing while wearing Nike Mercurial boots throughout his entire career alternating between the Nike Superfly and the Vapor. He launched his first signature boots the Superfly II Safari CR7 in 2010. Nike also recently launched the Mercurial Superfly CR7 World Cup edition in 2014. Cristiano is currently tied up with Motorola, Jacob & Co., KFC, Tag Heuer, Coca-Cola, Castrol, Konami, Banco Espirito Santo, Samsung and Sacoor Brothers.
You May Also Like: 10 Girlfriends of Footballers
In 2006, Cristiano started CR7, a fashion boutique on his native island of Madeira in Portugal. Then I 2008, he expanded his boutique business by opening a second clothes boutique in Lisbon in 2008. Cristiano's boutique designs jeans with leather pockets, patented buckled loafers and diamond-studded belts. The boutique also houses slinky outfits for women. Cristiano Ronaldo was the co-designer of a range of men's underwear in partnership with the Danish company JBS Textile Group and the New York fashion designer Richard Chai and in 2013. In that very year, he also went on to expand his own CR7 boutique by launching a line of premium shirts and shoes.
You May Also Like: Bizarre Hairstyles in Football
President of Portugal, Aníbal Cavaco Silva, at a ceremony held at the Belém Palace in January 2014, awarded Cristiano to the rank of Grand Officer of the Order of Prince Henry, stating that this was "to distinguish an athlete of world renown who has been a symbol of Portugal globally, contributing to the international projection of the country and setting an example of tenacity for future generations". Cristiano was honored with his named being placed in the Time 100, Time Magazine's annual list of the most influential people in the world, in April 2014. In May 2014, He appeared with his girlfriend, Russian model Irina Shayk, on the front cover of Vogue's Spanish edition.
You My Also Like: Soccer Hall of Fame 2015
Cristiano Ronaldo is the record-holder as the most expensive footballer in history since 2009 till date, and then became the first footballer to reach 40 goals in a professional league for two consecutive seasons. He received immense success in last couple of seasons. Cristiano was also named IFFHS World's Best Top Goal Scorer as well as FIFA Ballon d'Or in 2013. He received the ESPY Awards Best International Athlete in 2014 and also UEFA Best Player in Europe Award for 2013–14 season, besides being inducted in the UEFA Champions League Team of the Season for 2013–14 season. He was named LFP Best Player, LFP Best Forward and LFP Best Goal for 2013–14 football season. Cristiano also became BBC Overseas Sports Personality of the Year in 2014.
You My Also Like: Highest Paid Athletes 2015
In August 2010, Cristiano Ronaldo turned out to be the first athlete from any kind of sport to reach 50 million followers on Facebook. In October 2014, he also turned out to be the first athlete and the second celebrity after Shakira to reach 100 million Facebook followers. Besides Facebook, he is also the most-followed athletes on Twitter with above 30 million followers. In 2012, Cristiano secured the world's 5th highest social rank, right after Lady Gaga, Rihanna, Justin Bieber, and Katy Perry, according to Forbes. In September 2011, Castrol released the television film, "Ronaldo: Tested to the Limit". The computer security company named McAfee, in July 2012, produced a report showing Ronaldo at the top of the list by the probability of an internet search for their name leading to an unsafe website.
Cristiano Ronaldo is now a hugely loved player, known all over the world for his great gameplay, looks and even wealth, a large part of which he contributes to the welfare of people in the world who are suffering from diseases or due to natural calamities. He has indeed succeeded to gain a place in the hearts of millions of fans, which he is likely to hold for many more years to come.
You My Also Like: Highest Paying Sports in the World