Top 10 Slot Machine Games in the Apple Store
Everyone that has never had the chance to play casino games before the era of smartphones and tablets because of fear of losing all of their hard earned money now have lots of opportunities to play top-notch casino games for free. The most popular are the social casino slots that can be found on Facebook, but they are also available in the Apple Store.
There are thousands of Killer Pokies on the internet, as Australians like to call them, and the best are always in the Apple Store. They can be played on any iPhone or iPad model. The Store used to have real-money casino apps with slot machine games that could be played for free or money, but as online casinos began to develop HTML5 websites that are optimized for mobiles, these apps no longer were needed. Anyway, here are the 10 of the best slot machine games available in the Apple Store. All of them come as apps consisted of multiple slot games.
Top 10 Slot Machine Games in the Apple Store
10. Slots of Gold
Free credit reloads, free spins, leaderboards, progressive jackpot, prestige system, daily bonuses and all of that for free with the Slots of Gold slot machine games. You can play slots themed around ancient Egypt, the brave Roman Empire, the biggest party city of Rio, and the magical world of Fairies and all of that for free.
9. Slots by GameHouse
This app comes with many slot machine themes that you can choose from. My favorite are the theme with firefighters and the arctic theme with penguins. This slots app comes with a social feature where you can connect with your Facebook friends so that you can send each other free spins and playing money, not real money though. There are also daily and hourly bonuses, and you can post your achievements for everyone to see them, unlock reel symbols etc. There is a lot to keep you occupied. Like most of the slot machine games in the Apple Store, this app is completely free.
8. Slots Megapack 2
Slots Megapack 2 has three different slot machine games: Totem Treasure 2, Dragon Dollars and Monkey Money. This number doesn't really suit the name 'Megapack', but nevertheless what is most important is the quality of the slots. Each of these follows a similar gameplay like obtaining a bonus feature, but each one is with a different interesting theme. The graphics and sounds are amazing, which makes them one of the best slot machine games in the Apple Store. The entire app costs only $2.99. It's better to buy all three games at once instead of buying them separately which can cost you more.
7. House of Fun Slots
This iOS app is very unique compared to the other ones. It has five slot machine themes that you can use for the games and every week a new slot machine game gets included into the app. Plus when you start to use this app for the first time, you will get 1,000 welcome credits. Every three hours you can collect free coins, there is a Wheel of Fun where you get to spin it for some prizes, and just like in a real-money online casino there are weekly promotions and bonuses to claim.
6. Big Fish
When you log into the Big Fish casino app to play the slot machine games you get a 100,000 chips reward so that you can get to a flying start. The app rewards slot lovers with bonuses, huge jackpots and free daily games. The best slot machine game here is the Flaming 7's which has multiple jackpot levels. Just for logging in every day you can get 65,000 chips.
5. Konami Slots
Konami Slots was made by the same makers that made myVegas Slots that you can find higher in this list. Konami Slots manages to bring that similar authentic Vegas feel like myVegas Slots, and works basically with the same concept. The best with this slot machine games app is that you can play slots based on games from land-based casinos across the world. However, the rewards is one of its best features.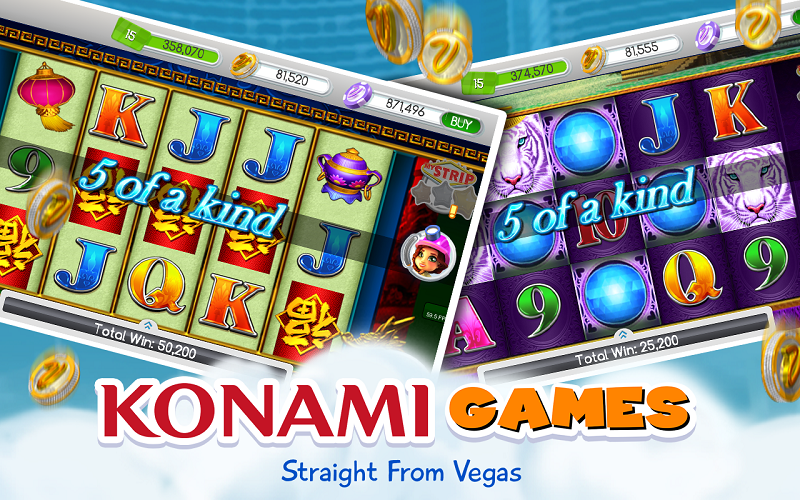 4. GSN Casino
With this app you can play the Wheel of Fortune Slots®, Deal or No Deal Slots, American Buffalo Slots, Wheel of Fortune Slots®: Vegas Edition, Wheel of Fortune Slots®: Classic Edition plus Classic 777 Slots and other non-slots games. These slots are one of the best you can find in the Apple Store. When you log in for the first time you can score 12,500 free token and you get a free token every day.
3. myVegas Slots
Here is the best slot machine games app in the Apple Store if you want to get the Las Vegas feel. The fun thing with this one is that the rewards you win in it can be redeemed in Las Vegas or around the world with the partners of this casino app such as hotels, airline companies, restaurants etc. Konami Slots has the same rewards concept. This app has more than 100,000 5-star ratings in the Apple Store, and you can imagine why. 
2. DoubleDown Casino
Together with Slotomania, DoubleDown Casino is one of the most popular slot machine games apps. Both have millions of downloads and both require a Facebook account to play them. This is convenient because instead of creating a separate account, you get to log into the app with your FB account and share gifts with your friends. The DoubleDown Casino has different slots themes, individual jackpots and corresponding bet limits. The best is that these can be played totally free. Remember, sharing is caring. By sharing coins with your friends you and they get to play for free without having to buy coins.
1. Slotomania
Playtika, the company behind Slotomania, is currently the highest grossing slots app developer. The Slotomania slots are incredibly popular on Facebook where more than 13 million players have liked the game app. Of course, you don't have to go to Facebook to play the Slotomania games because they are available in the Apple Store. However, you need to have a Facebook account so that you can log into the app. With the Slotomania slots you can send free coins to friends or other items like gifts and free spins. Although it offers in-app purchases of coins, it's totally sustainable without spending money because of the many free coins that you can get. The Elvis Machine slot is the best here.