Betting Companies That Sponsor Sports Teams
Over the past decade sports sponsorships have evolved greatly and today you can see many sports teams wearing a betting company's name on their shirts. It is no wonder since the sponsorship business is so profitable that there is no bigger brand awareness campaign than having a brand seen by millions of fans, the same fans that later go online and place sports bets.
This is such a profitable strategy that even online casino sites are starting to enter the game as reported by Bonus Wire, despite the fact that they enjoy a hefty annual income without getting into the sponsorship game. In the past years there were many match-fixing scandals across Europe and especially Italy, but no one has been able to connect them with the betting companies that sponsor sports teams. The main culprits behind those scandals were usually footballers.
Anyway, surveys have shown that fans have a bigger level of trust in the companies that sponsor their favorite teams than the companies that don't. This is the main reason why betting and gambling companies have entered the sponsorship game. It's more likely that Real Madrid fans will bet online at bwin.com than any other betting site. So, let's see the top 10 betting companies that sponsor sports teams. These have been selected based on their worldwide popularity as betting sites.
Top 10 Betting Companies That Sponsor Sports Teams
10. Bodog
Bodog was largely known as the biggest North American betting company until 2011 when it launched the new betting service called Bovada, which took the main responsibilities of Bodog as the biggest online betting service for US players. However, Bodog is still present around the world as a betting partner and it's most prominent client is Arsenal. The benefits of Bodog being Arsenal's partner and sponsor is rights to capitalize on Arsenal's Asian fanbase. Prior to that, Bodog had deals with L.A. Galaxy, Fulham FC, and Edmonton Oilers, the Canadian NHL team.
9. Paddy Power
Another Arsenal sponsor is the Irish giants Paddy Power, one of the most controversial betting companies in the industry. Paddy Power will be benefiting from Arsenal's presence on the Italian, Irish and UK markets. Paddy Power has been criticized in the past for many controversial bets, one of them was betting on the outcomes of Oscar Pistorius' trial. Paddy Power has been also criticized for sponsoring Denis Rodman's trip to North Korea. 
8. BetVictor
BetVictor's most juicy deal was that concluded in July 2015 with Chelsea, which made BetVictor the global betting and gaming partner of one of the biggest Premier League football teams. BetVictor is also sponsor to the Welsh Open Snooker Tournament and has been the sponsor of the Queen Mother Champion Chase, a race where Betway is now the main sponsor.
7. Betway
Betway has been one of the most active sponsoring companies in the world of sports. It's the principal sponsor of West Ham United, and has been sponsoring many different competitions like the Davis Club, eSports tournaments, Snooker tournaments, horse racing competitions etc. West Ham's deal with Betway infused a record £20 million into the club.
6. Coral
Coral has struck two major sponsorships with Premier League teams in 2015. In August Coral announced that they will be the sponsor of Norwich city gaining the rights to deploy ads across Carrow Road Stadium, one of the noisiest Premier League stadiums. It was the first time for a company to sponsor the stands of this team. While in November the same year Coral became the sponsor of Newcastle United. Coral is known as one of UK's biggest betting companies.
5. Betsafe
Betsafe's biggest sponsorship deal is that with Manchester City. The deal was concluded in October 2015, which allows Betsafe as the official betting partner of City to set up LED advertising at Etihad Stadium, set up branded betting kiosks, and offer special bonuses to City's football fans. Betsafe is also the sponsor of FC Köln. Betsafe's most prominent advantage of being FC Köln's sponsor is sponsoring the Betsafe Cup, an annual preseason friendly competition where FC Köln plays against Kasimpasa, RCD Espanyol and SC Cambuur. Betsafe's parent company Betsson has been sponsoring Arsenal couple of years back.
4. Dafabet
Dafabet has been very active in recent years with sponsorships for many teams. In the 2012/13 season Dafabet was the sponsor of Everton and West Bromwich Albion; in the 2012/13 and 2014/15 seasons Dafabet was the sponsor of Aston Villa having their logo on Villa's shirts and the surrounding panels at the stadium; and currently this betting company is the sponsor of Blackburn Rovers and Sunderland. They have even dabbled in eSports sponsoring the Fnatic team.
3. bet365
bet365 is by far the biggest and most recognizable betting brand in the world. With hundreds of betting shops, thousands of employees and millions of customers across every continent. bet365's sponsorship deals include the teams Aston Villa, Stoke City and Leicester City. You can even see the bet365 logo on Stoke's shirts.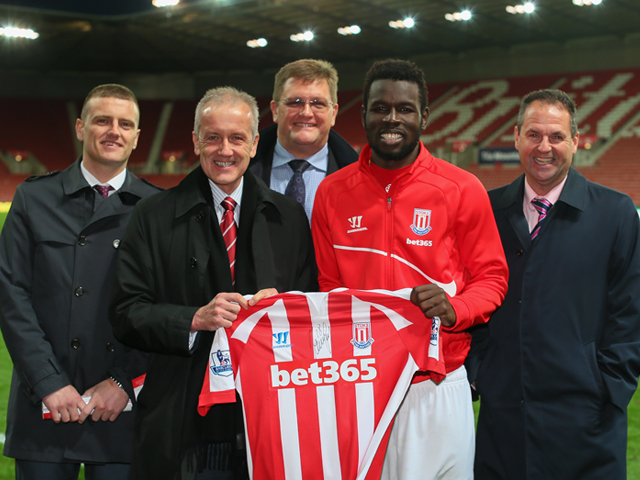 2. Betfair
Aston Villa seems to be the most favorite partner for betting companies. Even Genting Casino was attracted by Aston Villa's potential for advertising. But, Betfair too is on Aston Villa's long list of betting sponsors. Leicester City too is sponsored by Betfair. Leicester City is currently at the top of the Premier League table as of writing this, so we can expect for the club to attract even bigger sponsorship deals with other betting companies. Furthermore, Betfair is/has been the sponsor of other teams like Southampton, Arsenal, Barcelona, Manchester United and Sunderland.
1. bwin
The winner on this list is definitely bwin, a company that has secured its brand logo on Real Madrid's shirt. It is estimated that Real Madrid earns €16 million annually from the sponsorship with bwin. Furthermore, Bwin.com is the premium sponsor of Juventus and Anderlecht, and has been the main sponsor of FC Bayern Munich and Werder Bremen. bwin was also in talks with Manchester United.
bwin's activity is so big that it even sponsors the Portuguese League Cup, Portuguese first football league and Serie B whose names have been re-branded as bwin Cup, bwinLIGA and Serie bwin. The company also cooperates with FIBA, it's the main sponsor of MotoGP and many other competitions. There is no betting company that is currently more active than bwin.