Phillip Hughes No More
Phillip Hughes, the second most Tweeted cricketer since the accident, breathed his last in the hospital on Thursday, November 27, 2014. He fought for his life while in a state of induced coma for two days after he was struck by a cricket ball on the head at the Sydney Cricket Ground on 25 November 2014 during a Sheffield Shield match. Australian team doctor Peter Brukner recorded a statement on Thursday that Hughes had died at St Vincent's Hospital. He stated, "He never regained consciousness following his injury on Tuesday." Peter Brukner, while stating the saddest tale of accident of the cricket world in recent decade, stated, "As a cricket community we mourn his loss and extend our deepest sympathies to Phillip's family and friends at this incredibly sad time." Cricket Australia also announced the news of Hughes's death by updating their Twitter feed with, "We are extremely sad to announce that Phillip Hughes has passed away at the age of 25." Besides his family members, many fellow cricketers were also present at the hospital when his soul finally chose not to withstand the pain and take the forever route. The NSW bowler, Sean Abbott, who delivered the ball that struck Hughes, was also there in the hospital while Hughes fought for his life. A press conference is expected to be held on Thursday afternoon after the tragic incident.
Twitter Re-Action of Cricketers From All Over the World
Phillip Hughes No More: the saddest tragedy of the decade for the cricket world
Following the accident on Tuesday, The South Australia-New South Wales Sheffield Shield match was abandoned and the other two Shield games in Brisbane and Melbourne were also called off by the Cricket Australia on Wednesday after their consultation with the Australian Cricketers' Association and the players of both the sides. On that occasion, while announcing the cancelled matches, general manager of Cricket Australia team performance Pat Howard said, "Given how players across the country are feeling right now, it's just not the day to be playing cricket and we understand that."
The freakiest accident on SCG
Hughes attempted to hook the short-pitched bouncer delivered by NSW fast bowler Sean Abbott while he was batting on 63 not out at the Sydney Cricket Ground on Tuesday. He was hit on the side of the head that drew blood as he turned his head to one side while attempting the hook, at about 2.23pm on Tuesday during the Sheffield Shield match. He was hit below the helmet on the left rear side of the head. He stood for a few moments after the impact and eventually bent over, his head held down under the impact, before Hughes collapsed onto the pitch face first, which again gave the second hefty blow to the head after the bouncer itself. Cricket NSW Doctor John Orchard responded quickly after noticing the impact and administered mouth to mouth resuscitation and CPR on Hughes to deliver sufficient Oxygen which was quickly needed for his survival. Orchard and his medical staff tried their best for more than 30 minutes before Hughes was finally taken out of the field.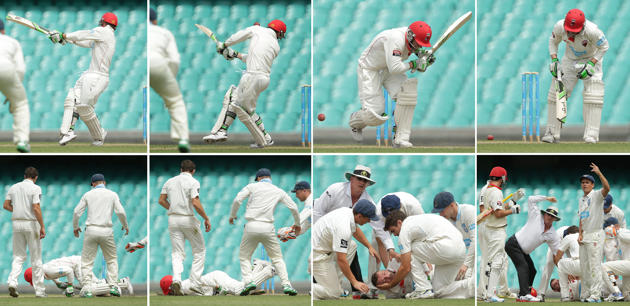 Ambulances were called just after the impact, and three ambulances eventually arrived, followed by a medivac helicopter. The first ambulance arrived about 2.50 pm and the helicopter landed in the middle of the SCG. Effort of John Orchard and the medical staff to get Hughes breathing again appeared to be successful and then it was eventually decided to take him to hospital by ambulance. The ambulance carrying the severely injured Hughes left the ground en route for St Vincent's Hospital at about 3.05 pm. After the ambulance arrived at the hospital, he was admitted to the St Vincent's on an emergency basis in a critical condition.
Inside the Hospital
After Hughes reached the hospital by ambulance and was taken into critical care, he immediately went into surgery at the hospital on life support. David Faktor, the hospital spokesman, stated to the media about the news of the surgery at approximately 4.15 pm. Phillip Hughes, to relieve blood pressure on his brain, underwent a 90-minute operation on Tuesday. The hospital authority confirmed that Hughes was out of surgery but still remained in a critical condition in the intensive care unit at approximately 5.20 pm. The batsman had been in an induced coma in intensive care at St Vincent's Hospital since then and never responded after that. The very next day, doctors carried out more brain scans on Wednesday morning. While talking about the surgery and expected recovery of Hughes, South Australia's high performance manager Tim Nielsen stated, "The outcome of that surgery is unlikely to be known for 24-48 hours, we ask you to respect the privacy of his family and friends." While remembering the incident, Broadcaster Alan Jones on his 2GB radio program said "What happened is that the blow from the cricket ball damaged … a major artery in the back of his head and that caused bleeding over the skull and prevented blood from going to the brain."
The fracture due to the impact of the ball occurred near the large vessels that transport blood to the brain. The impact damaged one of the large vessels, which quickly caused heavy bleeding on the brain. As per the experienced medical practitioner, such subdural hematomas are dangerous as the pressure in one place can crush the brain caused by the heavy blood pooling. Besides, it also blocks blood from entering with enough Oxygen to provide to the brain that needs it to survive.
A quick look on Hughes Cricket career
Phillip Joel Hughes or simply Phillip Hughes was an Australian national team member besides his appearances in domestic cricket for South Australia and Worcestershire. The left-handed opening batsman was selected to play against Pakistan in January 2010 and against New Zealand in March 2010 after he made his Test debut at the age of just 20. Hughes made his Test debut for the Australian national cricket team on 26 February 2009 against South Africa and made his ODI debut against Sri Lanka on 11 January 2013. He made his International Twenty20 debut against Pakistan in October 2014 in the United Arab Emirates. He is set to receive a $1 million Cricket Australia contract in the 2014 season while the national selectors consider him as the most important aspects of Australia's cricket future.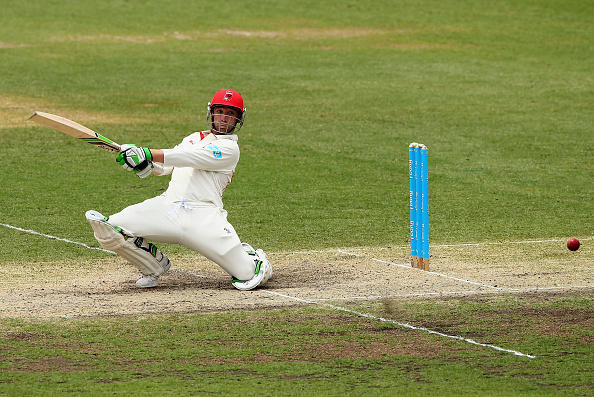 He made a total of 1,535 runs in 26 international Test matches for the Australian cricket team with a batting average of 32.65 and succeeded in achieving 3 centuries and 7 half-centuries with a top score of 160. Hughes also made a total of 826 runs in 25 One Day International appearances for the team with a batting average of 35.91 and succeeded in making 2 centuries and 4 half-centuries with a top score of 138 not out.
The memorabilia of Hughes's personal life
Hughes was born to parents Greg and Virginia in a small town on the north coast of New South Wales called Macksville. His mother is an Italian woman. His father is a banana farmer. He also showed his prospect as a talented rugby league player and played Australian rugby league international Greg Inglis. He was playing A-Grade cricket at the age of just 12 as he excelled so quickly while playing his junior cricket for Macksville R.S.L Cricket Club. Hughes moved while he attended Homebush Boys High from Macksville to Sydney at the age of just 17 to play for Western Suburbs District Cricket Club in Sydney Grade Cricket.He made 141 not out on his grade debut and set a marvelous record of scoring 752 runs in 2006–07 season with a batting average of 35.81 and the highest score of 142 not out. He took his cricket coaching at Triforce Sports Cricket Centre in Mortlake and represented Australia at the ICC Under-19s 2007 World Cup.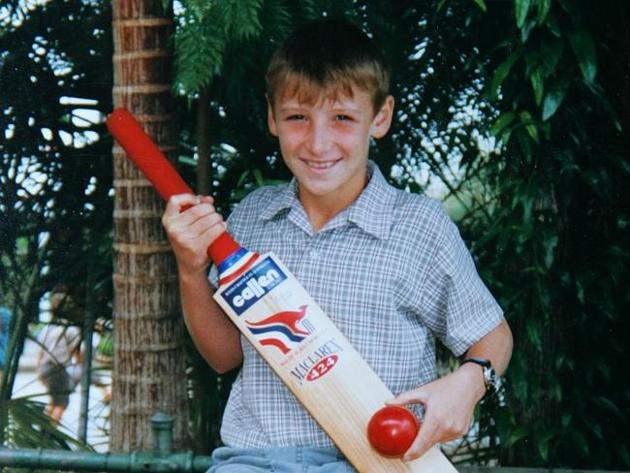 Statistics about sports injury
Injuries and elite level sports have a deep relationship, as it considered a common thing to get injured while participating in an elite sport. According to 2011-2012 medical statistics, more than 35,000 people, older than 15 years of age, were taken to hospital due to sports related injuries. Sports injuries are not a rare case scenario but due to the modern up gradation of sports technology and extreme development in medical science, critical injuries and traumatic head injuries become relatively rare. As per a report published in 2013 in The Medical Journal of Australia, in the past nine years the Sports-related concussions have increased by 60 per cent. Further, cricket concussions are relatively the rarest incident that can happen on ground. According to the survey on the 4745 Australians who are taken to hospital in the past nine years with sports-related concussions, motor sport accidents are the most dangerous sports followed by equestrian injuries, Australian rules football, rugby and roller sports.
Athletes who met with similar head injuries but survived
Petr Čech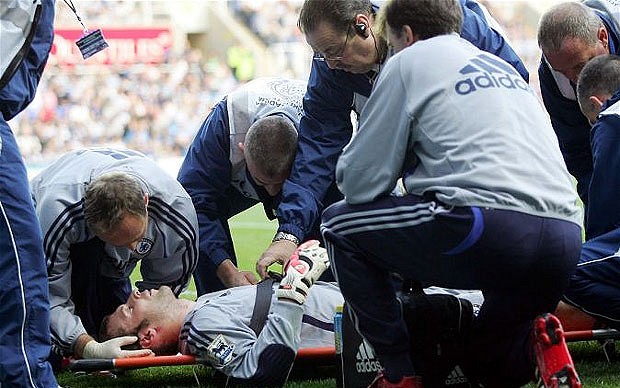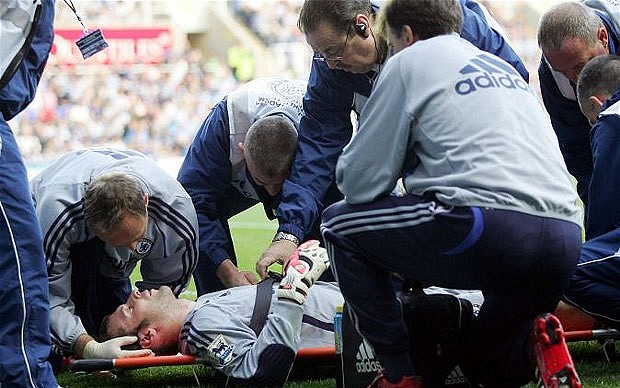 Born on May 20 1982 in Plzeň, Czechoslovakia, Petr Čech represents the national soccer team of Czech Republic. He is also a part of the club Chelsea. He also has the record of having played for Chmel Blšany, Sparta Prague, and Rennes. He plays in the position of the goalkeeper of the team. He sustained a severe head injury on 14th October, 2006 in a match against Reading. In the first minute of the game, he collided with midfielder Stephen Hunt whose knee hit his Čech's head, rendering him unconscious. He was treated for a depressed skull fracture, and it was reported later that it nearly cost him his life. He also faced intense headaches. He took off for 3 months, and returned in a match against Liverpool on 20th January, 2007. He has represented Chelsea in 2014-15 season.
Ewen Chatfield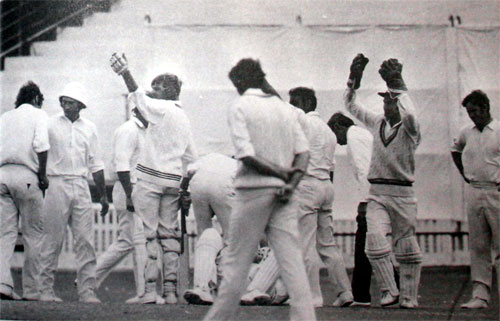 Born on July 3rd 1950, this former cricket player represented the national team of New Zealand as a medium-pacer. He was a distinguished cricketer, and not only contributed to the New Zealand's first Test victories at home and away, against Australia and England, and single-handedly led his team to win against the erstwhile strongest West Indies. Apart from his excellent performances, he is remembered for his near-death experience from a head injury he sustained in a match against England in the 1974/75 season. He faced a bouncer by England's Peter Lever. Due to the lack of helmet, the ball struck his temple. He was unconscious, and having swallowed his tongue, was unable to breathe. With his flicked back and chest massaged, he revived soon, to return to the field.
Jordan Rapana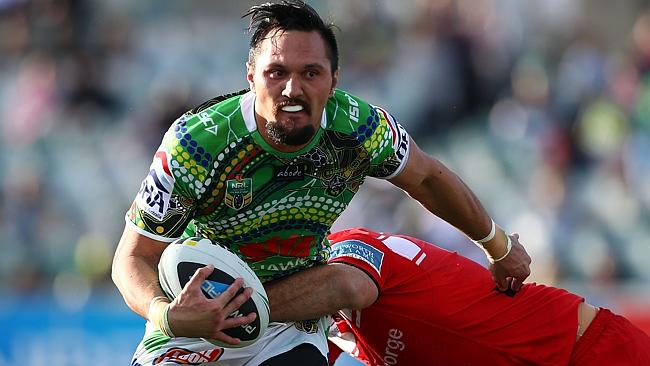 Born on August 15 1989 in Wellington, New Zealand, Jordan Rapana represents the Canberra Raiders in the National Rugby League. He plays in the position of wing, fullback and centre. He was part of the Gold Coast Titans' NYC team back in 2008. In 2009, he took a break from NRL for a two-year Mormon mission. Since his return, he has played in various tournaments. Rapana returned to NRL game for the Canberra Raiders 2014 NRL season. In the second half of a match against St. George Illawarra, Rapana fractured his skull, but played on for the last 25 minutes. The doctors diagnosed him with a broken skull. He has a metal plate the dent on the forehead. He also suffered nerve damage, and he is prescribed six months rest. Rapana will return to the field in 2015.
Jules Bianchi
Born on August 3 1989 in Nice, France, Jules Bianchi is a motor racing driver from France. He debuted in Formula One in 2013 for Marussia and finished at the 15th position in his first race I Australia. At the end of the season, he secured the 19th position with no point. Before this, he had entered F1 in 2011 as a test driver and also for Force India in the following season. During the 2014 season of the Japanese Grand Prix on 5th October, 2014, he sustained significant injuries in his head when he had a high-speed crash. He had to remain in a critical condition, and is currently in an unconscious state, but the good news is that he has been removed from artificial coma. He has been transferred to a French hospital, and it is still unknown as to when he will regain consciousness.
Nari Contractor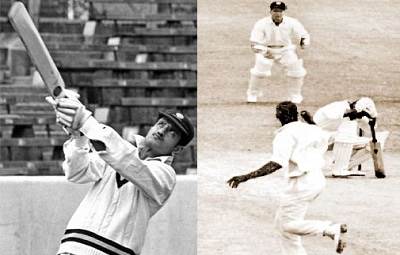 Born on Mrch 1934 in Godhra, Gujarat in India, Nariman Jamshedji Contractor, better known as Nari Contractor, is a former cricket player who represented the national team of cricket of India as a left-handed opening batsman. He showed great potential as a first class cricketer, who debuted in his international career in 1955 against New Zealand. As captain, he led his team to a series win against England in 1961-62. He also captained India against West India, when, during a match, he faced Charlie Griffith. When Griffith was about to bowl, Contractor was distracted by the opening of window in the pavilion, mainly because there were no sight screens at that time. He remained unconscious for 6 days. His international career came to a halt. He now coaches at CCI club.
As sports enthusiasts, we, at SportsLook.com, mourn the irreplaceable loss of Peter Hughes. We shall miss his presence on the field that made a difference to the performances of Australian cricket. We offer our deepest condolences to the family-members, friends, team-mates and all the near and dear ones of Hughes who are bereaved today.