Worst Looking Female Athletes
There is a huge number of female athletes who have their beauty with the skills to make sensation on the ground, as well as in the popular media or events. Maria Sharapova is one of those who got the limelight for their looks, and she even ranks among the top players. The good looks of an athlete can be an added advantage to get a good endorsement. But there are also many athletes who are not up to the mark by looks in public eyes. Many different female sports stars are often criticized for their looks, along with male athletes. A famous player is also a huge attraction for social media as we can see that various snaps of celebrity athletes in different moods and appeals are repeatedly posted on popular social media, such as Facebook and Twitter. Athletes who are not conventionally good-looking are also a good attraction for the mass, as the world is always good at criticizing. So here is the list of 10 Worst Looking Female Athletes in the World.
You May Also Like: Top 10 Worst Looking Male Athletes
10 Worst Looking Female Athletes in the World
Venus Williams
Venus Williams is an American tennis player who ranked World no. 20 as of August 11, 2014 in singles. She was also ranked three time the World No. 1 in singles by the Women's Tennis Association. She became the No. 1 in ranking first time on February 25, 2002 where she became the first African-American woman to achieve the highest rank in women's tennis history. Venus, at her best form, won four of the six Grand Slam singles tournaments Between the Wimbledon Championships 2000 to the US Open 2001. She is one of the five women to reach more than 200 main draw Grand Slam singles matches victory. She won a gold medal for singles along with three women's doubles gold medal in Olympic. As an interesting trivia, she played 25 professional matches against her sister Serena and won 11 times. Despite her achievements, he is often taunted for her physical features and facial structure, she ranked as 10th worst looking female tennis player in current era.
You May Also Like: Top 10 Physically Disabled Athletes
9. Jessica Zelinka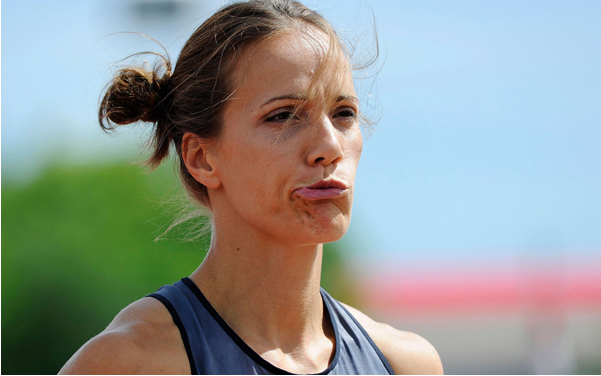 Jessica Zelinka is a 100 m hurdler, heptathlete and pentathlete who achieve her career's best score of 6599 points which is the Canadian record for the women's heptathlon. She started participating in major events at the 2005 World Championships in Athletics where she secured eleventh place. She also achieved fourth place in 2006 Commonwealth Games. Jessica was at her career's best when she won gold medal at the 2007 Pan American Games. She won silver two times consecutively in 2010 Commonwealth Games and 2014 Commonwealth Games. Jessica finished in 7th position at both the heptathlon and 100 m hurdles in 2012 Summer Olympics. She set the Canadian record with 6599 points during 2012 Canadian Olympic trials under Les Gramantik's coaching. More often than not, she is subject to crude comments by the media for her features which aren't feminine enough for the social standards. Especially on the track, her ripped body shows, and the audience often finds it repugnant.
You May Also Like: 10 Bizarre Hairstyles in Football
8. Carla Suarez Navarro
Carla Suarez Navarro is an international tennis player who started playing for Spain in the 2008 Fed Cup. She reached her career-high ranking of World No. 14 on September 16, 2013. She started her career by reaching the 2008 French Open quarter-finals which were also the third appearance in the main draw of a WTA Tour, and her first appearance in the main draw of a Grand Slam tournament. Carla defeated Venus Williams and reached the quarter-finals of the 2009 Australian Open. She lost to tournament champion Serena Williams in 2013 US Open. At 2014 French Open she lost to Eugenie Bouchard by three sets. An interesting fact about her is, she has a single-handed backhand unlike most of the professional female tennis players. She also stated in her interview about the liking of clay and hard courts. Yet, her less-than-ordinary appearance and old-fashioned curly hair seem to grab more attention than her talent, sometimes. She sports short hair, and her sun-kissed freckled face is a reminder of her athletic career.
You May Also Like: Amazing TV commercial by Athletes
7. Gabby Douglas
Gabrielle Christina Victoria Douglas is an American artistic gymnast who began her training at Gymstrada Gymnastics, Virginia Beach in October 2002, and later transferred to Excalibur Gymnastics in July 2004. She was a member of the gold-winning U.S. team at the World Championship 2011. She won gold medals in both the individual and team events at the 2012 Summer Olympics as a member of the U.S. Women's Gymnastics team. She was the first Afro-American female gymnast to become the individual all-around champion in Olympic history. Gabby was also the first American female gymnast to secure gold in both the individual and team events at the same Olympics. She is also the only American champion to win multiple gold medals in same Olympic. Despite making America proud, she was criticised particularly for her hair by a group named Ugly Americans with a surprisingly large number of female African-American members. As a person of colour, she has always donned quite a variety of hairstyles, including shoulder length wavy hair, cornrows, etc.
You May Also Like: beautiful Girlfriends of Footballers
6. Svetlana Boginskaya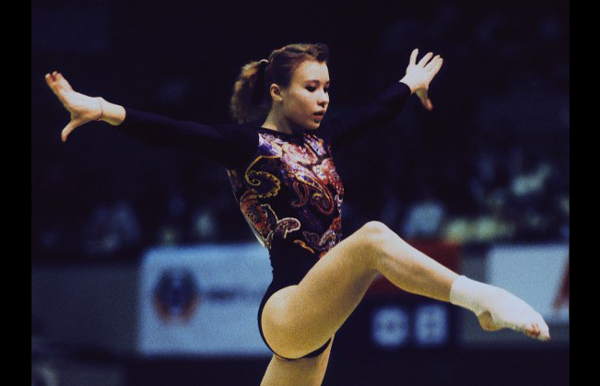 Svetlana LeonidovnaBoginskaya is a Soviet-Belarusian gymnast who is famously known as the "Goddess of Gymnastics" and "Belarusian Swan" because of balletic grace and gymnastic skills. Her last name derives from "boginya" which also literally means "goddess" in Russian. She started figure skating in her childhood and then transferred to gymnastics at age six. Svetlana is exclusively well-known for dramatic choreography and artistry she displayed during international events. She is a three-time Olympic Champion, which includes team golds in 1988 and 1992 and an individual gold medal at the 1988 in Vault. Svetlana won her first international event with a bronze for balance beam, during the World Championships in 1987. She secured four medals in the 1988 Seoul Olympic Games. Yet, she is often condemned for her appearance. She has been taller than the average girls of her age, right from the time when she was young. She is also quite lean, with long thin limbs, which are helpful for her sport, but not so much when it comes to winning appreciation from superficial people.
You May Also Like: Top 10 Athletes with Star Parents
5. Roberta Vinci
Roberta Vinci is an Italian tennis player who ranked World No. 1 in doubles and World No. 11 in singles in the WTA Tour Rankings as of July 2014. She has won 9 singles and 23 doubles WTA Tour titles which also includes the 2012 US Open, 2012 French Open, 2013 Australian Open and 2014 Australian Open. She also won 2014 Wimbledon titles with her regular partner Sara Errani. Her first WTA singles titles came in the 2007 Copa Colsanitas, by deafening TathianaGarbin. Roberta with her Italian teammates Mara Santangelo, Francesca Schiavone and FlaviaPennetta, beat the Belgian team in the 2006 Fed Cup final by 3–2. She won the 2014 Wimbledon Women's Doubles title with her partner Sara Errani and became one of the five pairs to complete a Career Grand Slam in tennis history. Yet, her talent is often overlooked by some critics who are more interested in talking about her ordinary looks and short height. She definitely wouldn't stand out in the crowd, and has a simple, girl-next-door air about her.
You May Also Like: 10 Most Handsome Soccer Players
4. Kaia Kanepi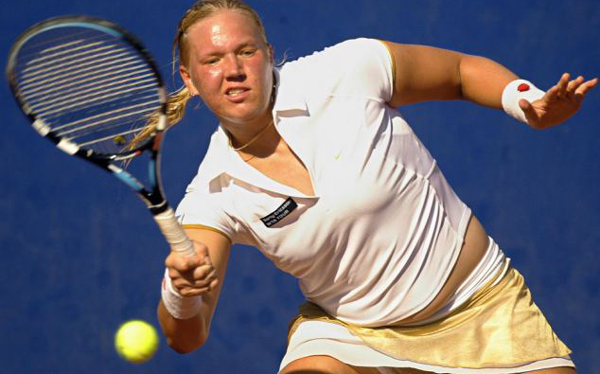 Kaia Kanepi is an Estonian tennis player, who achieved her career-high ranking of World No. 15 on 20 August, 2012. She became the first Estonian female player to win a WTA title when she won her first WTA Tour title in Palermo in 2010. She was the also the first Estonian woman to be ranked in the world's top 20. Kaia reached five quarterfinals of Grand Slam in three different Grand Slam tours and became the only Estonian tennis player to achieve that. She won her second WTA title at the 2012 Brisbane International and her third title at the 2012 Portugal Open. Along with that, she also won 2013 Brussels Open. She started playing tennis at the age of eight and became World No.1 in the International Tennis Federation Junior rankings. She turned senior professional in the year 2000. But, more often than not, she is highlighted for her large body, mannish physical and facial features and butch attitude, all of which lack the standardized feminine softness. She comes to the court and attacks her opponent with such viciousness that it shows on her face.
You May Also Like: Top 10 Best Looking Male Athletes
3. Chamique Holdsclaw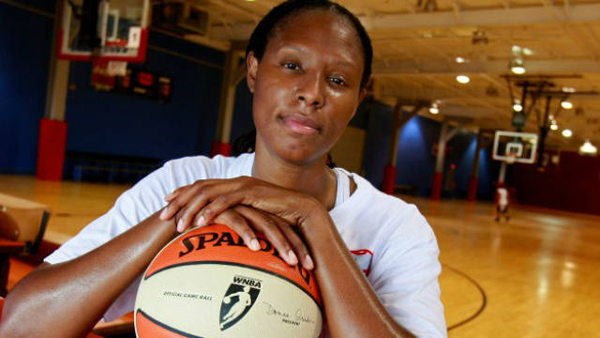 ChamiqueShauntaHoldsclaw is a former professional basketball player in the Women's National Basketball Association. She announced her retirement in 2007 while under contract with the San Antonio Silver Stars. She resumed her career again in 2009 WNBA Season and played for Atlanta Dream. She started playing basketball during her school days and was selected as a team member for The King Regional High School in Queens, New York. She led her school team to New York State Championships four consecutive times and awarded High School All-American by the WBCA. During her college days, she played for Lady Vols and again led that team to the first ever three consecutive Women's Basketball Championships from 1996 to 1998. Chamique was selected 1st overall by the Washington Mystics in the 1999 WNBA Draft. She has often been bad-mouthed for her looks, though, interestingly, this Nike player had also managed a spot on the cover page of SLAM magazine. She is yet another person of colour who is criticized for skin colour, large forehead, height and the way she sports her hair in braids or cornrows.
You May Also Like: Top 10 Best Looking Female Athletes
2. Lisa Leslie
Lisa Deshaun Leslie-Lockwood is a former professional American women's basketball player who played in the WNBA during her career. She started playing basketball on an all-boy basketball team in her middle school and later played on an all-girls school team with the record 33-1. She is a four-time Olympic gold medal winner and WNBA Most Valuable Player three times. Lisa was a team member of the University of Southern California and the seventh pick in the 1997 inaugural WNBA draft. Over the course of 11 consecutive seasons for the Los Angeles Sparks before her retirement, she achieved two WNBA championships and seven WNBA All-Star appearances. Lisa is widely considered as superstar of the WNBA history. She was voted one of the Top 15 players in WNBA history by her fans. But, the world obsessed with skin colour was not satisfied, and had to slam her as the 'dark' black girl. She also got criticized for her not-so-soft-and-rounded physical and facial features, and lack of petiteness.
You May Also Like: Best Haircuts in Football World Cups
1. Caster Semenya
Mokgadi Caster Semenya is a world champion and South African runner who won gold medal at the 2009 World Championships in the women's 800 metres final with a record time of 1:55.45. She participated and won gold at the 2008 Commonwealth Youth Games in the 800 m. She started participating major events in 2008 World Junior Championships. Semenya secured silver medals both in the 800 metres at the 2012 Summer Olympics and 2011 World Championships. After her 2009 World Championships victory, she had been subjected to gender testing by the official announcement. IAAF gave her clean-sheet on 6 July 2010. Semenya was included in the list of "50 People That Matter 2010" by the British magazine New Statesman. But, where women have set standards of beauty and grace to match up to, she has faced criticism since her childhood because, as her father stated, 'She wouldn't wear dresses and sounds like a man on the phone.' She is far from being graceful and petite, and her butch ways, even led to suspicions and gender verification tests.
Along with all these female athletes, many other star female players were also criticized for their looks. Martina Navratilova is also one of them who had been criticized on social media for her looks. Good, bad or ugly, sports stars are always our favorite, and they will always remain the same, because it is alright if not everyone meets socially dictated standards of beauty.
let us know about Worst Looking Female Athletes which one is your favorite. ?