Most Popular Card Games
A card game is a game that can be played by one or more number of card sets called Decks which consists of 52 numbers of cards. Four suits are there in normal decks which are Spades, Hearts, Clubs and Diamonds. Each suit consists of 13 numbers of cards which are divided into two main categories which are Face cards like King, Queen and Joker, and the number cards from 2 to 10. Ace is the only card that can be used as a face card or number card, or both, according to the needs of the game. Playing card games were first invented in China by Tang dynasty during the ninth century. The first recorded document of card game was found in the Collection of Miscellanea at Duyang by Su E who was a Tang dynasty writer. Su E recorded in his book that the daughter of Emperor Yizong of Tang, Princess Tongchang, played the "leaf game" with members of the Wei clan in 868. From that time, many modifications have been made which eventually made this game hugely popular as an indoor game. There are many types of card game genres that are popular throughout the modern world such as Trick-taking games, Matching games, Shedding games, Drinking card games, Gambling card games and many more, so here is the list of top 10 most popular card games.
You May Also Like: Most Popular Sports in the World
Top 10 Most Popular Card Games
1. Poker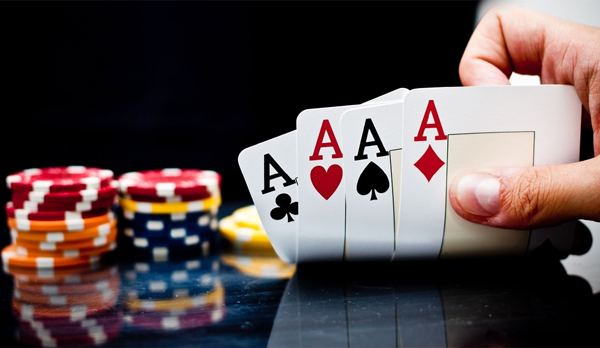 Poker was originated in New Orleans, Louisiana in 1829which was played byfour betting players and a deck of 20 cardsthat time according to the memoirs of English actor Joseph Cowell. Any poker player should have a good grip of card counting theory, probability and psychology. Poker is involving betting and individual play where each player bets according to the rank he judges his card-hand is worth as compared to the other players of the table. The betting action then proceed to the next player clockwise who either Match the previous maximum bet or Raise the bet or just Fold. At the end of final betting round, the winner is judged by the value of the card by concealing his hand or Show, or he simply wins if all the other players in the table fold their hands and choose not to Call or Raise. In case if all but one player folds their hands then the only bidding player is declared as winner of all the money on the Pot without showing his Hand. A player on the table can bet for his positive expected value of his card or just Bluff.
You May Also Like: Top 10 Most Difficult Sports to Play
2. Blackjack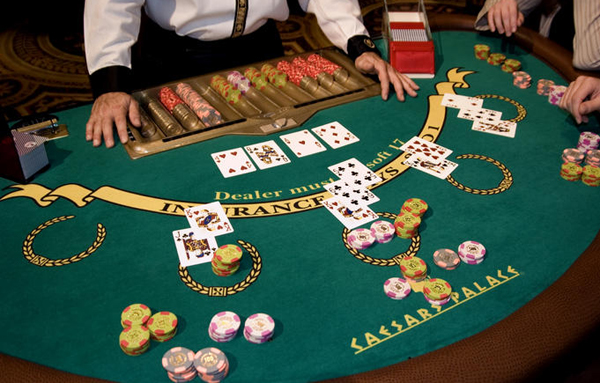 Blackjack aka Twenty-One was first referred in Rinconete y Cortadillo which is one of the twelve short stories included in Novelas Ejemplares by Spanish author Miguel de Cervantes in 1601. Blackjack is the most widely played casino banking game throughout the world. It is a comparing card game between a player and his dealer and doesn't need any involvement of other players. Blackjack is played with one or more deck of card with the objective of Beat the Dealer by either scoring 21 points on the first two cards without a dealer blackjack or by reaching higher final score than the dealer but without exceeding 21 points. If the point is a tie between player and dealer then additional cards are drawn by the dealer where the first players between them who exceed 21 point lose the game. Card 2 to 10 bear the same point as their number, face cards like kings, queens and jacks counted as ten points, and an Ace can be counted either 1 or 11 point according to the player's wish.
You May Also Like: Top 10 Spots for Adventure Sports
3. Rummy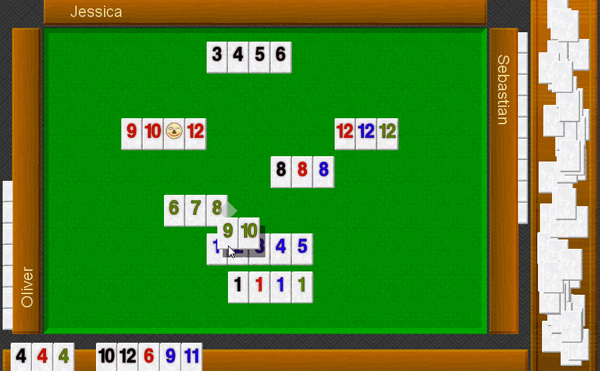 The original form of Rummy is called Sai rummy or Basic rummy which was derived from The Mexican game of Conquian according to games scholar David Parlett.The Conquian was actually originated from Chinese game called Khanhoo which itself derived from the famous game called Mahjong. The objective of Rummy is to build "Melds" by making "Sets" with three or more cards with same rank but from different suit and/or by making "Runs" with three or more cards in sequence from the same suit. The deck is divided into two parts; first it is distributed to all the players in clockwise face down one at a time manner upto 6 to 10 times according to the number of players participating in the game, and then the rest cards called "Stock" are placed face down on the table to be drawn by the players when the game progress. The highest point achiever is the winner where the Queen of Spades count as 40, all the Aces count as 15, all the 10s and face cards count as 10, and the rest cards bear the same point as their number.
You May Also Like: Top 10 One Hit Wonders of Sports
4. Contract Bridge
Contract Bridge or just Bridge is the most popular card game which can be played by teams consisting two players each. Bridge is the English pronunciation of a card game called "Biritch" which stands for "Russian Whist" according to the Oxford English Dictionary. The oldest reference of this game was found in a book called Biritch Rule Bookby John Collinson in 1886. The World Bridge Federation is the sole governing body of the international competitive bridge matches and tournaments. Contract Bridge's gameplay consists of several deals where the deal again consists of four phases which are dealing, auction, playing and scoring. A variant of original Bridge called Duplicate Bridge is mostly played in clubs and tournaments where the same deal is played by two or more different sets of players for comparative scoring without re-dealing the cards on each occasion.
You May Also Like: Hottest Female Sports Newscasters
5. Solitaire
Solitaire or Patience is widely famous as it comes in the form of Spider and Free Cell with every current installation of Microsoft Windows and moreover that, six variants of this game can also be downloaded from Microsoft Solitaire Collection on the Microsoft App Store. The game is believed to be originated from Germany or Scandinavia as the earliest known reference was found in a German game anthology called Das neue Königliche L'Hombre-Spielin 1783. It was first used as a future-telling game in early Germany where it was believed that important works should not be initiated when the cards are not in favor of the player. The objective of the game is to sort out the cards in an ascending manner by manipulating the layout of the cards arranged in a series of rows or cells. Some variation of this game also allow the player to move cards in new or empty cells in order to make the final series from King to Ace.
You May Also Like: Top 10 Hottest Female Tennis Players
6. Hearts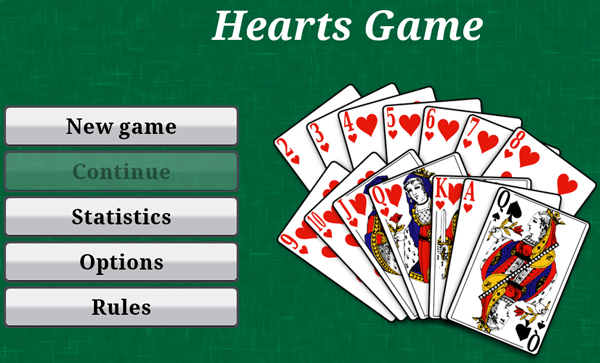 Hearts is an "Evasion-type" trick-taking card game from the Whist family of trick-taking games and also known with various other names such as The Dirty, Dark Lady, Black Lady, Slippery Anne, Chase the Lady, Crubs, Black Queen,Black Maria and Sweaty Betty. Hearts is believed to be originated from Reversis which was very popular in Spain around 1750s. It became hugely popular among youth after it was inducted in Microsoft Operating Systems starting from very early age of wide spread modern computing. The objective of this game is to score as less as possible by avoiding the suits of hearts and the Queen of Spades which bears the highest penalty point. The game starts after 13 cards is dealt to each player and then each player choose three cards and passes them to another player. The first trick is led by the player sitting left of the dealer and progress clockwise where other players should follow the same suit until he ran out of the card from the same suit and can play either Hearts or Queen of Spades.
You May Also Like: Good Looking Hairstyles of Athletes
7. Crazy Eights
Crazy Eights is a tactical Shedding-type card game and known with various other names such as Crates, UNO, Last One, Pesten, Rockaway, Spoons, Swedish Rummy, Last Card and Tschausepp. It is also referred as pre-extension of Switch and Mau Mau which werer very popular in schools around 1970s. The name of this game, Crazy Eights, was derived from the military code called "Section 8" for discharging mentally unstable soldiers from troops. The objective of this game is to get rid of all cards to a discard pile. A single deck is used for upto four players while two decks are used by shuffling for five or more players. After the first player place a card facing up on the table, there are five options for the next player which are playing the card with the same rank, same suit, a 8 and declare a different suit, a joker for which next player should play the card according to his wish, or can choose to draw from the stock.
You May Also Like: Best Haircuts in Football World Cups
8. Bullshit
Bullshit is a Shedding-type card game and is also known with various other names such as Bluff, 420, Verish' Ne Verish, Cheat and most famously I Doubt It as named by Edmond Hoyle who is regarded as "The Father of Whist". The objective of the players of Bullshit is to get rid of all of their cards by bluffing cards identity. Mainly a single deck is used for this game, but multiple decks are also used in many variants and often include the jokers as wild or trump cards. A player starts the game by placing a single or multiple cards face down on the table and claim the rank and then next player can either place his cards face down while raising the rank of the previous player or can just call "Cheat". If Cheat is called then the cards of previous player are revealed, and if the previous player bluffed about the ranks of his card then he should take the entire pile placed on the table, and if not then the player that called the Cheat should take the pile.
You May Also Like: Top 10 Best Looking Female Athletes
9. Spades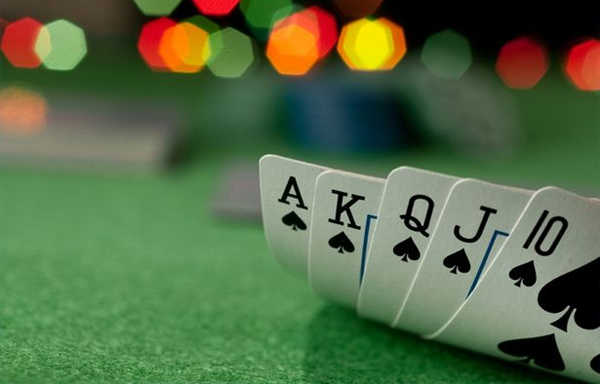 Spades is a trick-taking"cutthroat" game that belongs to Whist family of card games but unlike any other Whist games like Bridge or Oh Hell, Spades suit is always the trump suit in this game. It was originated by simplifying the Contract Bridge in late 1930s and was introduced to various military stations around the world during World War II by soldiers from its birthplace in Cincinnati, Ohio. The objective of this game is to take least number of tricks called "Books" that were bid beforethe hand starts. The game is most commonly played between two teams of two players each and often referred as Partnership spades. The winner or the winning team is judged by points where the general barrier of this game is 500 points. The highest ranking suit is the trump suit Spades followed by Hearts, Diamonds and Clubs, and the highest ranking card of each suit is the Ace followed by the face cards and then numbers.
You May Also Like:  Top 10 Best Looking Male Athletes
10. Canasta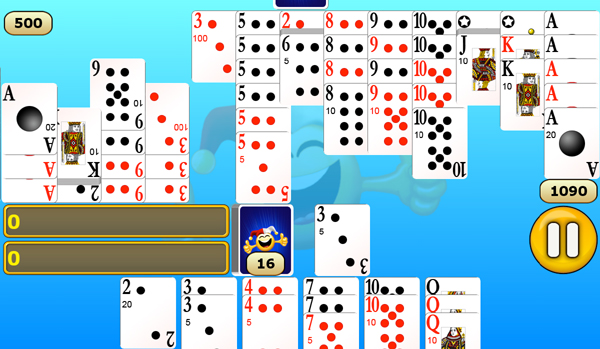 Canasta is a variant of 500 Rum that is belonged to the Rummy Family and is the only game of the family of Rummy to achieve the status of a Classic game. Canasta was invented in 1939 by Alberto Serratoand Segundo Santos in Montevideo, Uruguay, and became hugely popular in Chile, Peru, Brazil and Argentina during 1940s before it was introduced in USA around 1948. It is generally played by two teams with two players each with two standard card decks. The objective of the game is to make Melds of seven cards each bearing the same rank and playing all cards in hand called "Go Out". "3" of Diamonds and Hearts bears the highest point in this game that is 100 and also counted 200 if all four "3"s are held in single hand. Jokers are the wild cards in Canasta which bears 50 points and "2" and "A" bears 20 points each. The face cards and 8, 9, 10 bears 10 points each and the rest cards bear 5 points.
There are many card games available in the global market which are more popular in some regions than the rest of the world. Twenty-Eight is one of those games, which is vastly popular in sub-continents, whereas a game like Go Fish is hugely popular in USA and UK. There are many researches going on to improve the card games, and the world is also expecting new modifications and future addition to the card game industry.e hugely popular as an indoor game.There are many types of card game genres that are popular throughout the modern world such as Trick-taking games, Matching games, Shedding games, Drinking card games, Gambling card games and many more.