Physically Disabled Athletes
Sports are a great way to be healthy and fit. It is a virtuous circle that requires a healthy body, and leads to great fitness and health in turn. Sports are a great form of physical activity which boosts health. Sports also require an absolutely healthy and fit person with great endurance, speed and agility. But, does that mean that those with physical disability cannot come anywhere near sports? Well, there are many people who have sustained injuries or undergone physical problems that have left them with disabilities. But, many such people have displayed great courage and participate in sports, only to overcome their physical hindrances. Let us look at Top 10 Physically Disabled Athletes in Sports but have proved themselves as great players.
1. Oscar Pistorius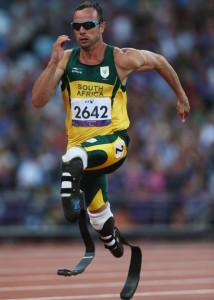 South African sprint runner Oscar Pistorius competes in championships for below-knee amputees and also for able-bodied athletes. Both of his legs below the knee were amputated when he was just 11 months old. He runs with "Flex-Foot Cheetah" which is a J-shaped carbon-fiber prosthetics developed by biomedical engineer Van Phillips.He is widely referred as the fastest man on no legs and was nicknamed the Blade Runner. He won a gold medal and a bronze medal in 2004 Athens Paralympics, 3 gold medals in 2008 Beijing Paralympics and 2 gold medals and a silver medal in 2012 London Paralympics. Pistorius entered in able-bodied international competitions after becoming a Paralympics champion and won the 2011 World Championships in Athletics.
.
.
You May Also Like: Top 10 Most famous Card Games
2. Jim MacLaren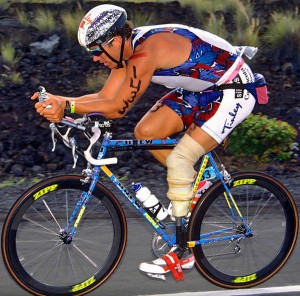 American athlete Jim MacLaren is known for his record-breaking performances in Ironman triathlon and the marathon with his amputated left leg below the knee. Besides being a star athlete, he is also a motivational speaker and author. He played football and lacrosse at Yale University and proved himself as the best prospect. MacLaren in a fatal motorcycle accident lost his left leg below the knee at the age of 22 in 1985. With his amputated leg, he ran the marathon in 3 hours 16 minutes and completed the Ironman Hawaii in just 10 hours 42 minutes. MacLaren was awarded the Arthur Ashe Courage Award at the 2005 ESPY Awards presentation for his contribution to the sports and for his heroic courage. Jim died on August 31, 2010 at the age of just 47.
.
You May Also Like: Top 10 Places for Adventure Sports
3. Bethany Hamilton
American professional surfer Bethany Hamilton won the Rell Sun Menehune in 1998 and Open Women's Division of the NSSA in 2002. She survived a shark attack in 2003 where her left arm was bitten off. After she lost her left hand, she returned again to professional surfing while proving herself as one of the very best surfers of the whole world and numerous titles such as NSSA National Competition in 2005 and O'Neill Island Girl Junior Pro tournament in the same year. Hamilton recently won the Surf 'n' Sea Pipeline Women's Pro in 2014 in USA. Besides surfing, she wrote about her experience in her autobiography called Soul Surfer: A True Story of Faith, Family, and Fighting to Get Back on the Board in 2004. A feature film called Soul Surfer was also released upon the book in April 2011.
You May Also Like: Hottest Female Sports News Anchors
4. Melissa Stockwell
American paratriathlete and former Paralympic swimmer Melissa Stockwell was the first female soldier to lose a limb in the Iraq War while serving her duty as a lieutenant. She lost her left leg in a bomb explosion when she was leading a convoy to Baghdad. She competed in the 100 meter butterfly, 100 meter freestyle and 400 meter freestyle at the 2008 Summer Paralympics as the first Iraq veteran chosen for the Paralympics. In her triathlon career after she moved from swimming, she won three consecutive gold medals in 2010 Budapest, 2011 Beijing and 2012 Auckland ITU Paratriathlon World Championships. Melissa was named USAT Paratriathlete of the Year in 2010 and awarded the Bronze Star and the Purple Heart for her service in Iraq.
.
You May Also Like: Top 10 Hottest Female Tennis Stars
5. Jason P. Lester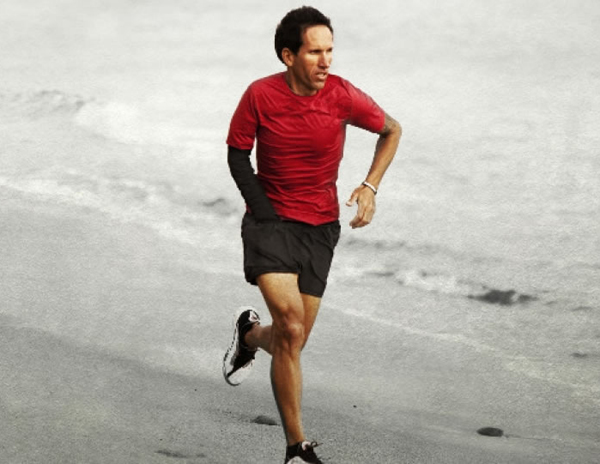 American endurance athlete Jason P. Lester was hit by a car while on his bicycle, and left there, almost dead, with 21 broken bones and a collapsed lung. He survived from that fatal accident and started playing baseball and American football and made to all-star games. He also started to participate in running and biathlon races at age 16 and ranked number 2 in the state of Arizona for biathlons at the age of 18. Jason became the first disabled athlete to complete the Ultraman World Championships in 2008 and also compete in the Ironman World Championships on the same year. Lester biked and ran over 4,800 miles promoting the benefit of sport across the United States in March, 2012. He won the ESPY Award winner for Best Male Athlete with a Disability in 2009.
You May Also Like: Good Looking Haircuts of Athletes
6. Natalia Partyka
Polish table tennis player Natalia Partyka participates in competitions for athletes with disabilities and also participates in competitions for able-bodied athletes. She reached the last 32 of the 2012 London Olympic women's table tennis competition. Natalia won her first international table tennis medal in the 1999 disabled World Championships and competed at the 2000 Summer Paralympics in Sydney at the age of just 11 becoming the world's youngest Paralympian ever. She won three gold medals at the European Paralympic Championships in 2007. She represented Poland in both the 2008 Summer Olympics and the 2008 Summer Paralympics in Beijing and won a gold medal in the singles event and silver in the team event.
You May Also Like: Best Hairstyles in Football World Cup
7. Terry Fox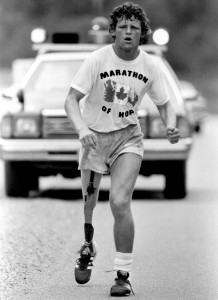 Canadian athlete, cancer research activist and humanitarian Terry Fox recovered from a fatal car accident on November 12, 1976 and was diagnosed with a form of cancer called osteosarcoma for which his leg had to be amputated. He was the youngest person ever to be named the Order of Canada. He was named a member of the Canadian wheelchair basketball team for the national championship in Edmonton and won three national titles and was named an all-star by the North American Wheelchair Basketball Association in 1980. He participated in a cross-Canada run to raise money and awareness for cancer research in 1980. Terry ran contentiously for 143 days across 5,373 kilometres, which ultimately cost him his life, and he died on June 28, 1981.
.
.
You May Also Like: Top 10 Beutiful Female Athletes
8. Aimee Mullins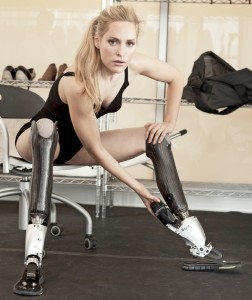 American athlete, actress, and fashion model Aimee Mullins is one of the most prominent thinkers on the topic of prosthetic innovation. Aimee was born with a medical condition called fibular hemimelia which resulted in the amputation of both of her lower legs when she was just one year old. She held the youth league record for stolen bases in softball in his early young days and started competing against able-bodied athletes in NCAA Division track and field events while attending Georgetown University and became the first amputee in history to compete in the NCAA. She competed in the Paralympics in 1996 in Atlanta and set World Records in the 100 meter, 200 meter and the long jump before she retired in 1998. She was named as one of the "Coolest Girls in Sports" by the Sports Illustrated magazine.
.
You May Also Like: Top 10 Good Looking Male Athletes
9. Ron Santo
American third baseman in Major League Baseball Ron Santo played for Chicago Cubs from 1960 to 1974. He ended his career in second ranking among third basemen with .464 slugging average, 1,331 runs batted in, 3,779 total bases and 1,108 walks. Ron was the winner of five consecutive Gold Glove Awards of the National League for defensive fielding excellence at third base from 1964 to 1968. He made to the All-Star steam nine times and after his retirement, Chicago Cubs retired the jersey Number 10 which he wore throughout his career. He was inducted in the National Baseball Hall of Fame in 2012. He went through the amputation of the lower half of both his legs for his severe diabetes problem. This baseball legend died on December 3, 2010.
.
[MyAd]
10. Curt Marsh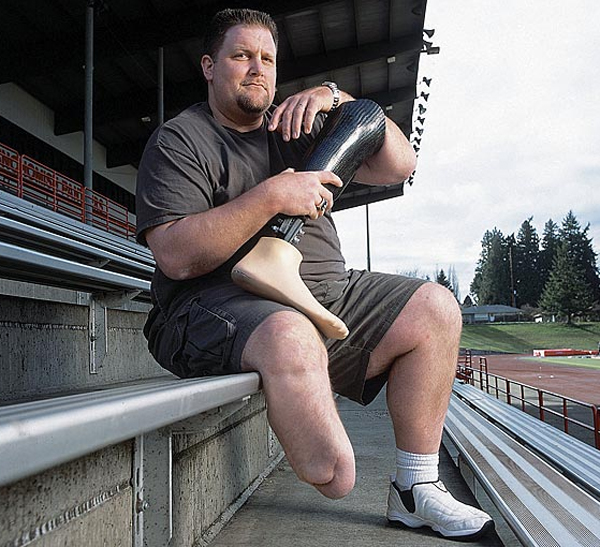 Former American football offensive tackle Curt Marsh was a High School All-American at Snohomish High School in Snohomish WA. He was the twenty-third pick of the first round of 1981 NFL Draft by the Oakland Raiders out of the University of Washington. After spending his first season with Oakland Raiders, he played for Los Angeles Raiders from 1982 to 1987. He was a dominant force and a key player of Los Angeles Raiders in his peak form with his six feet five inches height and 273 lb. weight. For his repeated football-related injuries, he underwent more than twenty surgeries including a foot amputation which forced him to opt for retirement from professional football.
You May Also Like: 10 Most Handsome Footballers
It takes a great deal of courage to overcome a physical disability and brave one's way through the tough world of sports, even though a fit body is considered one of the greatest assets in the sports industry. Those who beat such handicap give a whole new meaning to the term, 'differently abled.' so have you inspired by these Physically Disabled Athletes. ?