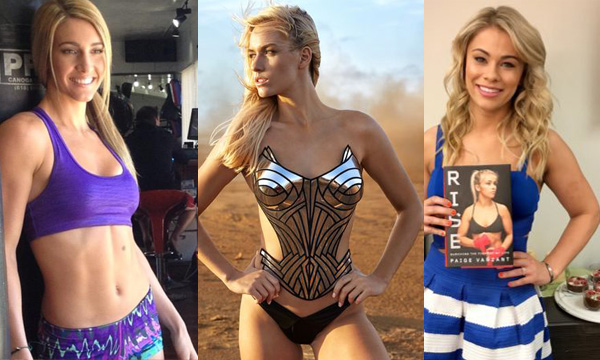 Paige Spiranac — The question of whether you want to call Paige Spiranac a golfer or a "golf personality" is entirely up to you. What shouldn't be a question is the fact that she's easy on the eyes. The former All-Mountain West golfer at the University of Arizona and San Diego State University also played professionally on the Cactus Tour.
These days, she's more about leveraging her popularity to promote various brands, including PXG, 18Birdies, and Cybersmile, often leveraging her social media following of over 1.5 million people to do so.
Paige VanZant — Paige VanZant admittedly looks more like the stereotypical cheerleader than she does a Mixed Martial Artist. Then again, she happened to stumble into the world of MMA when she inadvertently came across a UFC gym owned by former MMA star Ken Shamrock. From there, as they say, the rest is history.
Fast forward a few years later, and VanZant was signed to the Strawweight division of the UFC. The would-be dancer with the thousand-watt smile has a fighting style that's very Muay Thai-esque, using a lot of strikes with her fists, elbows, forearms, and knees. In other words, don't mess with her.
Mikaela Mayer — When we tell you that the majority of the nation go to know Mikaela Mayer because she starred in the commercial for a soda brand (Dr. Pepper), you'd just chalk it up to the soda company using another pretty face to promote their product. In this case, you'd be half right; Dr. Pepper did capitalize on Mayer's good looks, but coupled that with the fact that she was an Olympic women's boxer with legitimate aspirations of winning a gold medal.
While her quest for said medal fell short at the 2016 Olympics in Rio, Mayer has now turned her attention to the world of professional women's boxing, and current sports an undefeated record
Looking for a better way to interact with sports? Check out ibet789.
Allison Stokke — To borrow the phrase from Kim Kardashian, Allison Stoke was the first women's athlete to officially "break the internet" with her smoldering good looks. When she was still a freshman at the University of California at Berkley, a photographer captured an otherwise innocuous shot of her before she was about to compete in the pole vault event, and from there, a star was born.
While Stokke has done everything she could to maintain that she's an athlete first and a good looking woman second, that brush with fame has never really gone away. It's not all bad for her, though; she's currently dating Ricky Fowler, one of the top 10 professional golfers in the world.
Morgan Reid — Morgan Reid just graduated from Duke University, completing her studies in pre-med, and was drafted to play professionally in the National Women's Soccer League (NWSL) after playing soccer at Duke as well. But most guys got to know her after a whole slew of sites dedicated to finding sexy photos of coeds stumbled upon Reid's Instagram account, in which she isn't shy to post photos of her incredibly shredded physique in athletic or bikini shots. Because a lot of them contain her not wearing a lot of clothes, said photos spread like wildfire. Rightfully so, we might add.