Top 10 Neymar Hairstyles 2015
Born on 5 February 1992 at Mogi das Cruzes in Brazil, Neymar da Silva Santos Júnior who is better known as Neymar Jr. or just Neymar is a professional soccer player who represents the national team of Brazil, of which he is the captain. He is also a player on the Spanish club FC Barcelona. The 22 year old Brazilian plays in the position of forward or winger, with the jersey number 11.
Neymar is one of the most remarkable players from Brazil, which is the most renowned team in the world of soccer. At a very young age, Neymar has already made some amazing achievements, and has shown great potential. He has been appreciated for his skill and technique for legends like Pele and Ronaldinho.
His soccer career started early, when his youth career started in 1999 with Portuguesa Santista where he played till 2003, after which he joined the Santos team, continuing till 2009. His senior career began in 2009 with the Santos club, and then he joined the world renowned Barcelona in 2013. In 2009 he also began representing the Brazilian U17 level and he played till 2011, making 1 goal in 3 appearances, and moved on to the U20 level. After 9 goals in 7 appearances in one year, he graduated to the U23 level in 2012, making 4 goals in 7 appearances. He has been a part of the senior level Brazilian team since 2010, scoring 42 goals in 60 appearances.
In this short span, he has achieved many honours and accolades, including the 3 Campeonato Paulista in 2010-2012, Copa do Brasil in 2010, Copa Libertadores in 2011 and Recopa Sudamericana in 2012, as a part of Santos, and the Supercopa de España in 2013 as a member of Barcelona. As a part of the national team of Brazil, he has shared the team's glories as it won the South American Youth Championship in 2011, 3 Superclásico de las Américas in 2011, 2012 and 2014, the Olympic Silver Medal in 2012, and FIFA Confederations Cup in 2013. There are several other recognitions that he has won for himself.
Apart from the many formal recognitions of his great gameplay, he has been praised time again for his skill and technique, and his performances have made great impact upon the team that he now leads. Off the field, Neymar actively promotes Brazilian pop music, Música sertaneja in particular. His video of dancing to a Michel Teló number in the Santos Locker room went viral, and he made sure to perform his dance moves on the field too, after making goals.
Michel is indeed a very fun player to watch, and it is not just because of hid incredible gameplay. Neymar is considered one of the hottest players of modern soccer, and he has succeeded in grabbing attention worldwide with his incredible sense fashion and style. Besides his cute smile, chiselled physique and warm skin tone, he has displayed an amazing range of hairstyles in the past couple of years.
You May Like: 
Neymar's Hairstyle Palette
Throughout his career so far, Neymar has donned various styles in his hair, ranging from curls to Mohawks, mullets to dreadlocks, in various colours, shapes and lengths of hair. These are colourful, crazy, creative, and outrageously original, and have been a part of his identity during his ascent as a quality soccer player.
IMAGE 1
What most might not know about Neymar's hair is that, it is naturally curly and black. In one of his early appearances for Santos back in March 2009, 17 year old Neymar appears with a shaggy buzz cut, apparently fashioned in a jiffy, and shows off his natural colour and texture.
IMAGE 2
In May 2010, 18 year old Neymar appeared for Santos with a Mohawk at the top and the sides buzzed. This was possibly his first official appearance with the style that later went on to become his trademark. The Mohawk, in its budding stage, was short and kempt.
IMAGE 3
As a part of the Brazilian team in a friendly match against the United States in August 2010, Neymar sported the Mohawk again, only this time, it was much more carefully stylized and flamboyant. His hair had grown longer – or, should we say, higher – by this time, and the Mohawk was very distinct. Some loved the look, and some raised eyebrows.
IMAGE 4
In a friendly match against Scotland for Brazil in March 2011, Neymar appeared with a more stylish and better styled Mohawk, in a somewhat Cristiano Ronaldo-ish Metro Mullet fashion. Apparently, his relationship with his Mohawk had gotten pretty serious by then.
IMAGE 5
Neymar appeared in the Club World Cup in December 2011, when he played for Santos and sported a hairstyle that was more of a fauxhawk. The hair was bleached blond, with most of the hair growing long all over, and spikes that were gelled to hold strong and upright at the centre. This was indeed more extravagant than his previous hairstyle and still a very stylish look.
IMAGE 6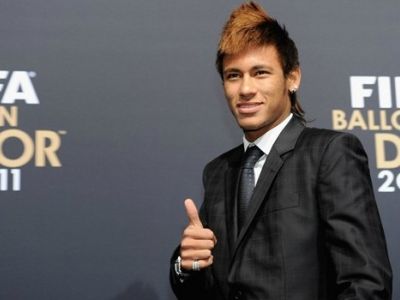 At the Ballon d'Or in Zurich, Switzerland, in January 2012, Neymar appeared to receive the Puskás Award for the best goal of the year, with still a messy fauxhawk. However, his colour, however, was dyed in a more muted tone. He oozed confidence as he attended a formal award event in a dapper suit and sporting such a hairstyle.
IMAGE 7
In the matches of the Olympics in August 2012, Neymar's Mohawk was a cross with a mullet. The sides were shortened, with spikes shooting in all directions. He often sported a headband.
IMAGE 8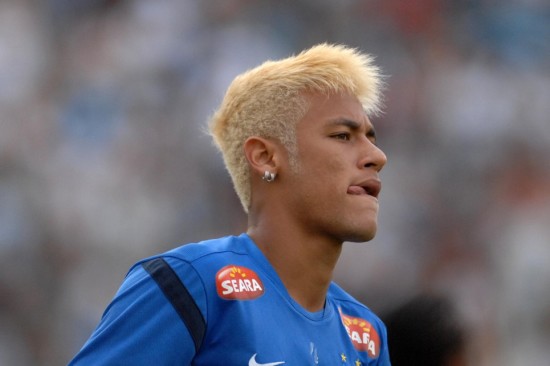 In February 2013, Neymar appeared against England in a friendly match with a brilliantly bleached blond hair, with his Mohawk uniquely gelled.
IMAGE 9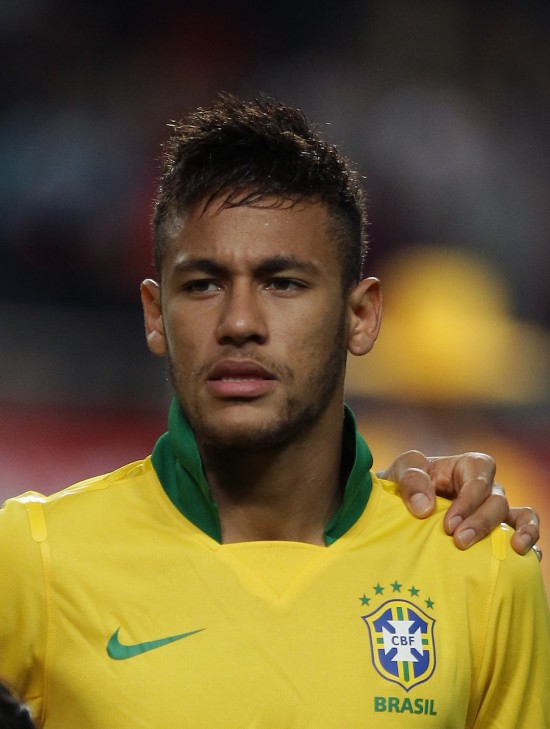 In June 2013, Neymar appeared in a match against England where he was given the iconic jersey number 10. His hair looked much more staid, as he ditched both spikes and dye, and went for a rather simpler and less garish but still stylish, layered look.
IMAGE 10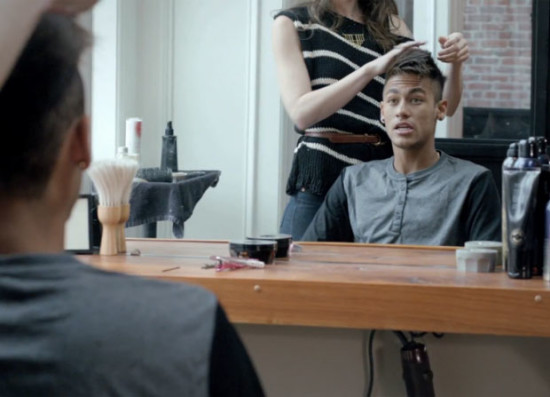 In August 2013, Neymar carried the tame, gelled hair look to his new club, Barcelona, with sides almost shaved, and no dyes on.
This young player seems to have a bright future ahead, and will continue to win hearts with his superb skills. It is likely that he will have the same attitude of a superstar, and we can expect him to turn up with more bizarre and fun new hairstyles.