Sports is unquestionably a very competitive and challenging field. It takes more than just talent and
passion for being a successful athlete. Professionals who manage to make a name for themselves in
their respective sports follow a brutal physical regimen are extremely motivated and patient. They
believe that success doesn,t come overnight, and a person has to push their limits to make it to the top.
So, what are the specific qualities which make a successful athlete stand out? The more important
question is how can you stand out and excel in sports? Let,s look at the ingredients which make up the
recipe for success in sports.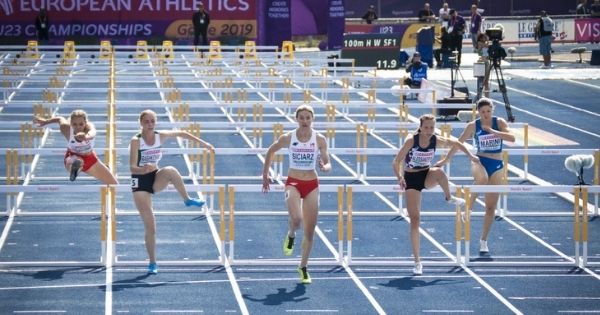 1. Set realistic and positive goals:
It,s good to aim high, but those aims should correlate to reality. If you want to be successful at sports,
you should set long-term yet realistic goals which can meet your, the coaches, and the public's
expectations. It will help if you think about the bigger picture, but don,t expect the results to show up at
your doorstep the next day. If you, ve decided to follow a strict physical routine, give it time to work, and
then take it up a notch to accomplish your goals on a grander scale. Successful athletes set both long
and short-term goals and plan for each even accordingly. They remain optimistic yet realistic about their
abilities and what they can achieve.
2. Know the fundamentals:
Even though most sports don,t require extensive educational or generic knowledge, successful athletes
don,t jump into the unknown. It,s always beneficial to know the basics of your sports, the training it
requires, and the strategies which will rack in trophies. It is also vital to rely on competent people as
well. For instance, sports managers with a Masters degree in Sports Science would know extensively
about how to accelerate your career, play at your strengths, and maximize profits. A successful athlete is
successful not solely because of hard work and talent but also because they have the best administrative
support.
3. Focus on being consistent:
Do you get your degree by simply studying everything in a single day or even a week? No, right? Then
how can you expect to rise to the top if you don,t work consistently? Consistency is one of the topmost
qualities wanted in a successful sportsperson. Willpower, persistence, and consistency can beat all odds
even if you lack talent. Being consistent will help you build on small sustainable changes that eventually
turn into unstoppable progress. As someone who wishes to succeed in sports, you must be dedicated
enough to stay on track. Do not let a single victory overshadow your future, and strive to be consistent
regardless of the magnitude of the event you are participating in.
4. Improve core strength and stamina:
An athlete is all about focusing on their sports-specific strength and improving the overall physical
condition. Physique and fitness are undeniable parts of a sports person's career, and they can,t afford to
slack in this department. Core strength and stamina are essential to all athletes regardless of playing. A
more robust and healthy body will be less prone to injuries, and if you do sustain one, your body will
recover fast. How would you expect to manage expectations and tackle the competition if your body
isn,t up to par?
5. Deal with stress and pressure:
Stress is an inseparable element of the sporting world. Every athlete who aims to be the best has to
endure their fair share of peer and public pressure along with the stress of remaining the best. The first
step towards dealing with the stress is to accept that it is part of your career. There will always be those
who will criticize no matter what, and that's where you must learn to play stress to your advantage. Turn
your stress and pressure into a motivator that pushes you even more towards working hard. It would
also help to indulge in stress managing and relieving activities.
6. Have self-discipline and motivation:
The life of a successful athlete isn,t always just fancy vacations or big sponsors. The more significant part
of their day is dedicated to putting their training and routine first, which requires self-disciple. The
power to not call it a day or give in to the temptations of skipping training sessions is what makes a
successful athlete. Practicing self-discipline to stay out of trouble, follow the diet, listen to the coaches,
put training first, and resilience against setbacks will make you successful at sports.
7. Pay attention to mental health:
Since athletes are so physically sound, people almost naturally assume that everything is right in their
heads. On the contrary, athletes may be more prone to mental health issues due to immense pressure
to succeed and unrealistic expectations. To have long-term and sustainable success, athletes should
focus on having good mental health. It will help them remain focused, motivated, and poised under
pressure. Excessive physical training may take a toll on your mental health. Therefore, you must always
address any mental health issues you must be experiencing to avoid burnout.
Conclusion:
When you wish to have a career in a competitive field, it calls for something extra. Athletes are shining
examples of extreme dedication, motivation, passion, and hard work. They go through intense physical
training to be on the top of their game. Becoming successful at sports requires more than just a strong
body. With our above-proven pointers, you can set your mind straight and focus on the critical aspects
which offer favorable results.