Hottest Female Tennis Players
Tennis universe is studded with drop-dead beauties and glamorous divas. Starting from Maxim to FHM, even the Playboy always tried to decorate their covers and pictorial series with gorgeous tennis players. Sports Illustrated Swimsuit edition is also the one which brought numerous tennis stars on different occasions wearing bikini and swimsuits for the ultimate boys' pleasure. From magazine covers to brand campaigns, female tennis players always dominated the glamour world of sports as an eye candy throughout the history. Irrespective of their bad performance and lack of skills at some point of their careers, beautiful female tennis players never missed the spotlight in the glamour industry. If a marvelous racquet hand complimented by their celebrity looks, it is always worth a cheer for any tennis fan. So here is the list of 10 hottest female tennis players of all time.
You May Also Like: Hottest Female Sports Newscasters
10 Hottest Female Tennis Players
1. Anna Kournikova
Anna Kournikova's image was the most searched at the peak of her fame according to Google. With her longtime partner, Martina Hingis, she won two Grand Slam titles in Australia Open in 1999 and 2002, and together became widely known as the "Spice Girls of Tennis." Along with her tennis career, she was also a trainer for The Biggest Loser in its 12th season. Anna posed in bikinis and swimsuits for 2004 Sports Illustrated Swimsuit Issue and also featured in various men's magazine like Maxim and FHM. She was named one of the "50 Most Beautiful People" in the world by People in 1998 and also became the "hottest female athlete" on ESPN.com. Anna was ranked 29th in the list of "100 Hottest Women of All-Time" by Men's Health in 2011. As an interesting fact, a version of White Russian cocktail made with skim milk was named after her.
You May Also Like: Good Looking Hairstyles of Athletes
2. Maria Sharapova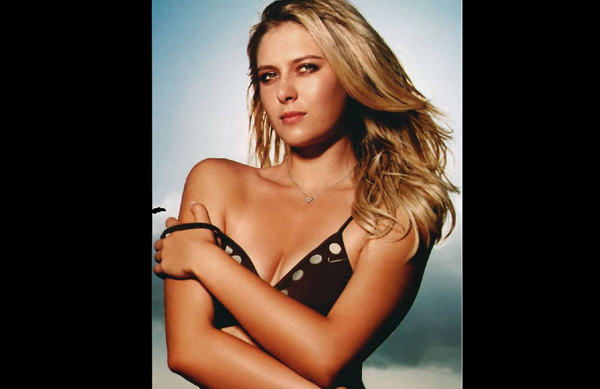 Maria Sharapova, with five Grand Slam singles titles, won a total of 32 WTA singles titles throughout her career. In 2004, she won the year-end WTA Tour Championships. She was ranked world No.1 for 21 weeks on five separate occasions started from August 2005. She was listed by Time among "30 Legends of Women's Tennis: Past, Present and Future". As a style icon, Maria is the brand ambassador of many fashion houses such as Cole Haan. She was one of the 50 most beautiful celebrities in the world according to People in 2005, and the hottest athlete in the world for four consecutive years by Maxim. She was also featured wearing bikini along with 25 supermodels in Valentine's Day issue of the Sports Illustrated Swimsuit in 2006. In 2013, Maria became the brand ambassador and signed a three-year deal with Porsche.
You May Also Like: Top 10 Best Looking Female Athletes
3. Sania Mirza
Sania Mirza, in her career, defeated famous tennis players such as Marion Bartoli, Svetlana Kuznetsova, Vera Zvonareva, DinaraSafina and former World No. 1 Martina Hingis. With her career-high rankings of 5 in doubles and 27 in singles, she became the highest ranked female player ever to have participated from India. She won a WTA tour along with major Mixed Doubles championship on two occasions, 2009 Australian Open and 2012 French Open. Sania was included in the list of "50 heroes of Asia" in October 2005 by Time and also became one of the members of "33 women who made India proud" by The Economic Times in March 2010. Sania, with her nerd glasses, nose ring and cute skirts, bagged many ad campaigns. She was a huge attraction for the media when she married Pakistani cricketer Shoaib Malik on April 2010, where she wore $137,500 worth of Pakistani wedding dress. Sania is currently a brand ambassador of Telangana, an Indian state.
You May Also Like: Top 10 Best Looking Male Athletes
4. Ana Ivanovic
Ana Ivanovic was ranked World No. 1 by Women's Tennis Association in 2008. She won the year-end WTA Tournament of Champions in two occasions, 2010 and 2011. She was one of the Top 100 Greatest Players Ever, male and female combined, according to reporter Matthew Cronin and also became part of "30 Legends of Women's Tennis: Past, Present and Future" by Time. With 47 wins, she became the record holder of most singles-match wins in the 2014 WTA tour. Ana became the Serbian National Ambassador for UNICEF on September 2007. She was featured in a song called "Hurricane Ana" by Serbian rapper Filip Filipi and Collie Buddz. Ana also got featured in many international magazines like FHM, Vanity Fair, Cosmopolitan, Grazia, Vanidades, The Best Shop, etc. She even became a model for Sports Illustrated in South African edition.
You May Also Like: 10 Most Handsome Soccer Players
5. Eugenie Bouchard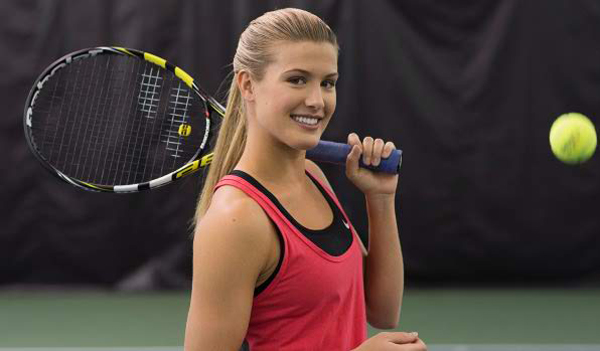 Canadian tennis player Eugenie Bouchard aka Genie is currently ranked world no. 8 as of August 2014. She became the first Canadian to reach the finals of a Grand Slam in singles at the 2014 Wimbledon, but was defeated by Petra Kvitová in the biggest match. She won her first professional title at the ITF Burnie International with $25,000 as a junior, and with Jessica Pegula, her first professional doubles title at ITF tournament in Dothan with $50,000. She was overwhelmed when she met her favorite tennis player Roger Federer in 2012 Wimbledon Ball. She is a brand ambassador for various big brands like Nike and Babolat. Eugenie signed a three-year endorsement deal with Coca-Cola in June 2014 and also became the face of Rogers Communications and Pinty's. She appeared as a guest weather anchor on CTV Montreal and CTV's The Social during the off-season of 2013.
You May Also Like: Top 10 Athletes with Star Parents
6. Dominika Cibulkova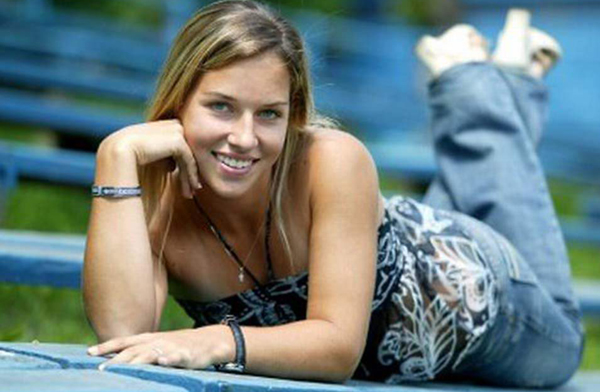 Dominika Cibulkova is ranked world no. 13 by Women's Tennis Association as of August 2014. She reached her first Grand Slam semifinal at 2009 French Open. While appearing at the Australian Open 2014, she became the first Slovakian female to reach the championship round of a Grand Slam. This self-proclaimed "lot of energy" beauty is well-known for her exceptional racquet speed and her love for playing in clay and hard surfaces. She was named "a threat to everyone" in 2014 by Steve Tignor of Tennis.com. The signature expression of Dominika called "Pome" stands for "Let's go" or "Come on" in English. In 2014, she also launched a clothing line featuring this signature expression. Dominika featured on the 24th January cover of The Washington Post after she defeated by Agnieszka Radwańska on semifinal.
You May Also Like: beautiful Girlfriends of Footballers
7. Daniela Hantuchova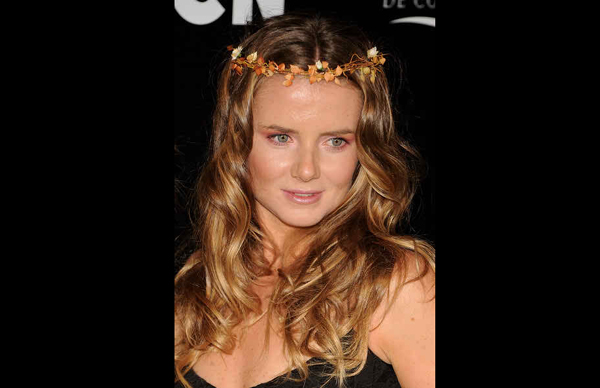 Slovakian beauty Daniela Hantuchova defeated Martina Hingis in the Indian Wells Masters final and won her first WTA tournament. She also became the lowest-ranked player ever to win the tournament on that occasion. She is the 37th woman to reach 500 career wins in the Open Era and became the most successful Slovakian tennis player of all time. In mixed doubles, she completed the career Grand Slam in 2005 and became the fifth female tennis player achieve so. This multilingual beauty is fluent in Slovak, Czech, English, German, Croatian and Italian. Besides tennis, Daniela is a classically trained pianist. Daniela posed in bikini for a picture series called Volley of the Dolls in 2009 Sports Illustrated Swimsuit Edition. She also posed nude for a pictorial called "The Body Issue" in the 2012 edition of ESPN: The Magazine.
You May Also Like: 10 Worst Looking Female Athletes
8. Maria Kirilenko
Russian tennis player Maria Kirilenko defeated Anna-Lena Grönefeld in the China Open and won her first WTA Tour title in 2005. She also won the 2002 U.S. Open Girls at the start of her career. In 2002 Canadian Open and US Open junior, she became one of the youngest winners of all time. She reached her career-high ranking of World No. 10 in June 2013. She was featured as the brand ambassador of British fashion designer Stella McCartney's tennis range by Adidas in 2006 and since then, she has played exclusively in the brand's gears. Adidas replaced her with Caroline Wozniacki after 2009 US Open. Maria posed for a pictorial named "Volley of the Dolls" in 2009 Sports Illustrated Swimsuit Edition. Russian ice-hockey player Alexander Ovechkin linked Kirilenko on his Twitter account as his girlfriend on November 2011 and confirmed  his engagement with her on December 2012.
You May Also Like: Top 10 Worst Looking Male Athletes
9. Tatiana Golovin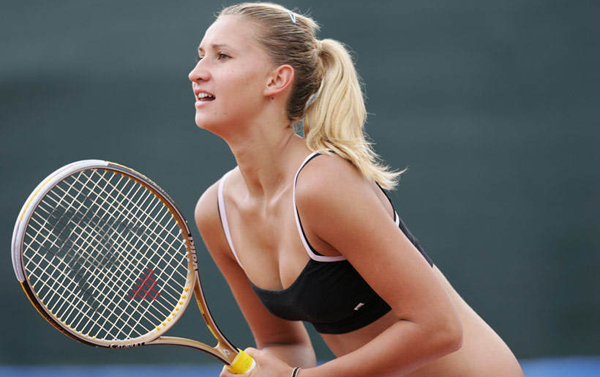 Tatiana Golovin won her first title with Richard Gasquet in 2004 French Open mixed doubles event and also qualified for singles quarterfinal at the 2006 US Open where she was defeated by eventual champion Maria Sharapova. After she was diagnosed with lower back inflammation in 2008, she temporarily retired from tennis field. She posed for the pictorial named "Volley of the Dolls" in the 2009 Sports Illustrated Swimsuit Edition with Maria Kirilenko and Daniela Hantuchová. She started her broadcasting career for French television in 2013 and also became a tennis commentator for them. Tatiana is a member of the 'Champions for Peace' club with 54 elite athletes, created by a Monaco-based international organization called Peace and Sport. She was also in a relationship with Manchester City's star footballer Samir Nasri.
You May Also Like: Top 10 Physically Disabled Athletes
10. Nicole Vaidišová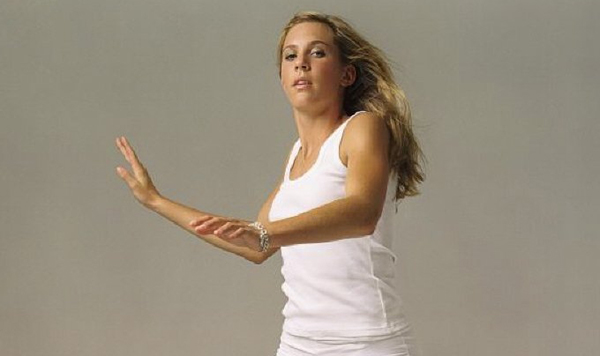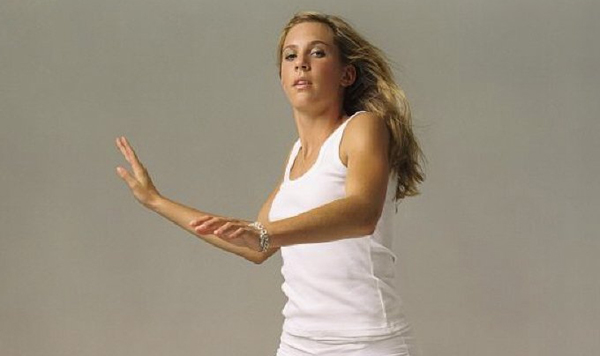 Nicole Vaidišová reached the quarterfinals at Wimbledon and also became a semifinalist in French Open and Australian Open. She became the 12th-youngest player at the age of 17 in WTA Tour history to be ranked within the top 10 players. She was ranked World No. 7 in May 2007, which was her career high. Nicole is a big fan of NHL and one of the famous supporters of Tampa Bay Lightning. She is also a big fan of Madonna and enjoys reading, bike riding and yoga to maintain her fitness. She was the ambassador of "Run Easy" and "I Am What I Am" campaigns by Reebok. Nicole became a brand ambassador of "Eco-Drive" series by Citizen Watches and also represented by Olivier van Lindonk of IMG. She is a part of "Get Caught Reading Campaign."  Nicole also worked with a non-profit organization called PlayPumps International which is dedicated to distributing clean water among African children.
Many other celebrity tennis players like Gabriela Sabatini, Caroline Wozniacki and Carling Bassett also achieved huge media attraction, as the players listed above. Many Afro-American beauties such as Serena Williams also became the cover of various fashion magazines in their career, which proves glamour and fashion was, is and will dominate the tennis world.